"I love my Normerica Home built in 2002! 13 miles from Parshall, CO in the middle of nowhere, off the grid for 7 years. Solar house with collectors not in this picture. The solar collectors on the roof are for hot water and inflow heat."
Homeowner of Featured Green Home (above)
You Don't Have to Choose Between a Net Zero Home and Your Dream Timber Frame Home – You Can Have Both!
Are you looking to build an environmentally friendly or 'green' home? Canadians are increasingly concerned about the environment and conscious of their environmental impact on the planet. Buildings, including our homes, account for 18% of Canada's greenhouse gas emissions. Construction waste is a significant generator of our country's solid waste. The cost of energy and fuel continue to rise. These are significant problems; however, it is possible to build a green home that is as energy efficient and environmentally respectful as it is beautiful.

New innovations in building materials as well as advancements in building science and technology are impressive, making your dream home of a green home an exciting prospect. Since 1979, Normerica has been leading the way in these areas. We're passionate about marrying the tried-and-true craftsmanship of a timber frame home with the latest in building science and technology. The results are homes of the highest quality – homes that are not only beautiful in design, but energy efficient, eco-conscious, and long lasting.

By carefully considering building materials and products, insulation, building waste, design, and focusing on building to meet (and exceed) energy efficient standards, the green home of your dreams can be achieved.
Building Material Choices for Your Green Home
What materials are you going to use in the building of your home? Are they renewable? Recyclable? How energy efficient are they to produce?

Timber frame homes are eco-friendly by their very nature. The choice of wood as a green building material is intuitive. Not only does wood grow naturally, but it is renewable and completely recyclable. Wood is an effective insulator, which is important to the energy efficiency of your home. It also uses far less energy to produce than concrete or steel.

It is important to consider where your builder is sourcing their wood. Look for a builder, like Normerica, that only buys from suppliers who follow sustainable forestry practices.
Insulation is a Crucial Decision When Building Your Energy Efficient Home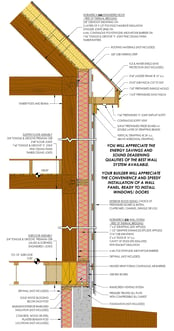 When building a green home, thinking about insulation is a critical starting point in creating an energy efficient home. You will hear insultation effectiveness being rated with an 'R-value' . This is an insulating material's resistance to conducting heat flow. It is measured, or rated, in terms of its thermal resistance, or R-value. The higher the R-value, the greater the insulating effectiveness, which means a more energy efficient home. An energy efficient home is more comfortable, lowers your utility bills, and is better for the environment.

A Normerica timber frame home is designed to a higher standard than conventional construction. Our insulated wall and roof systems exceed Canadian, American, and international building codes. Our wall system has an impressive R30 rating. Our roof system has an equally impressive R-value ranging between R40 and R60, depending on the roof assembly design of the home. The result is a tightly built green home that keeps a consistent temperature no matter what Mother Nature has to offer.

Just as we can customize your design, we can customize your insulation, too – increasing or decreasing insulation values, depending on such factors as climate and seasonal use.

Want to know the ins and outs of our superior wall and roof systems? Download our Residential Construction Guide for all the specifics.
Energy Efficient Home: Selection of Windows, Doors, Heating, Water Systems, and Foundation
In order to reduce home energy use, you'll need to consider energy efficient windows, a whole-home ventilation system, an efficient hot water system, and superior foundation insulation such as using Insulated Concrete Forms. Having built well over 2,000 buildings, Normerica has experience working with a variety of products, and will be able to guide you on selecting the best, most energy efficient products for your home. The designers at Normerica will make sure you have access to all possible options to increase your building's performance.
Want a Green Home? Reduce Construction Waste
In Canada, construction waste represents 12% – or 4 million tonnes – of the solid waste generated in our country. This is hugely costly to our government, homeowners, and, of course, the planet.

With the technology used to pre-fabricate the timbers as well as the engineering behind our wall and roof systems, Normerica can significantly reduce the construction waste created in the manufacturing process. Since the timbers, and sometimes the wall systems, are ready to install once they arrive at the job site, the on-site waste is again greatly reduced. As a bonus, the construction time on-site is shorter for a Normerica timber frame build in comparison to a traditional stick-frame build, saving the homeowner time and money.
Home Longevity Means Reducing Long-Term Environmental Impact of Rebuilding
How long is your home built to last? Choosing a high-quality building envelop is a sustainable decision, as it is designed and built to last generations.

Timber frame is a classic, dependable, and long-lasting building method that has been around for thousands of years. The style of exposed timbers and the feeling of being surrounding with the warmth of wood has proved itself timeless. Building something beautiful that will outlast ourselves is a sentiment that many of our clients feel strongly – as do we at Normerica. Kitchen, bathroom, and furniture styles will come and go, but a timber frame building will remain timeless.

See how Designer Sarah Richardson recently updated a Normerica Timber Frame ski chalet built in the 1980s, with stunningly contemporary results!
Thoughtful Design for Your Green Home
When you are building your home, you can select or a create a house plan design that is perfectly suited to your family. How many bedrooms do you need? Bathrooms? Do you work from home and need a home office?
Armed with your list of needs, Normerica can help you create an efficient home that maximizes space for your family. You can either start with one of Normerica's pre-designed house plans, or work with our in-house design team to create a design from scratch. You can also take advantage of energy efficient design techniques such as passive solar design. This technique aims to minimize energy use by thoughtful orientation of your home, window placement, and overhangs to take advantage sun's natural heating.
Taking Your Green Home Build to the Next Level
Maybe you are looking for your green home to go a step further in terms of energy efficiency. We'll explain some of the terms you may have come across, and how a Normerica timber frame home can help you achieve these standards.
Net Zero Home
A Net Zero home produces its own energy and aims to produce at least as much energy as it consumes. For a home to be completely Net Zero, it will likely need to utilize a renewable energy source, such as solar power. To achieve a Net Zero home, it is crucial that the building envelope be highly efficient. Normerica's super insulated wall and roof systems are perfectly suited to a Net Zero home, which is why you'll see our house plans termed 'Net Zero Ready'.

ENERGY STAR Certified Home
ENERGY STAR is a symbol for identifying energy efficient products, including homes. An ENERGY STAR certified home uses 20% less energy which is excellent for both our planet and your utility bills. Natural Resources Canada explains ENERGY STAR as an add-on to regional building codes – going beyond what is required by code. Every ENERGY STAR newly built home is constructed by an ENERGY STAR builder and awarded an ENERGY STAR label by the Government of Canada.

An ENERGY STAR energy efficient home has the following features:
High insulation levels
Additional air-sealing
Efficient heating and cooling systems
A whole-home ventilation system
High performing windows and doors
ENERGY STAR certified products, such as lighting and appliances
All Normerica house plans are 'ENERGY STAR ready'. Our super insulated wall and roof systems will achieve the ENERGY STAR requirements for insulation for your energy efficient home. With the addition of efficient windows, doors, heating, cooling, ventilation system, and appliances, you will be able to achieve the ENERGY STAR certification.
Explore Your Green Home Build Options with Normerica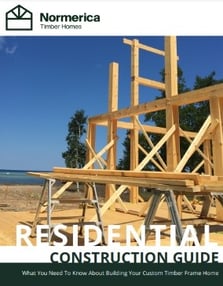 If you want to build a green home as your dream timber frame home, Normerica is a great place to start, with Net Zero and ENERGY STAR ready house plans or customized house designs with the same level of environmental focus. Our team will assist you through the entire process – from crafting your dream design to additional energy efficient home choices and more. Throughout the build process, you will have a dedicated person here at Normerica to help with any questions you may have.
To learn more about how you can build your green home, and the overall process of building your dream timber frame home with Normerica, download our Residential Construction Guide.
About Normerica
Since 1979, Normerica has created the highest quality timber frame homes and buildings across North America and around the world. Our decades of timber frame experience and expert in-house design capabilities have given us the ability to offer a high level of customization and design flexibility – a key advantage of timber frame homes and post and beam construction.