Normerica's Contemporary Timber Frame Chalet Gets a Design Makeover While Taking Advantage of the Timeless Timber Frame Style
Happily dubbed the Contemporary Chalet by Sarah Richardson and her Design Team, one of Normerica's original timber frame homes built in 1986 was recently the featured space for a complete design makeover.
Normerica has been in the business of building timber frame homes since 1979. They are one of the oldest timber frame companies in Canada. Normerica remains Canada's leader in timber frame buildings with the experience of building thousands of timber frame homes, cottages, chalets, and other structures.
Sarah Richardson is an award-winning designer and television personality with a video series on YouTube called Design Life. In September 2019, Sarah's team began renovating and updating the Contemporary Chalet.
The Final Reveal: A Normerica Contemporary Chalet Gets A Design Makeover by Sarah Richardson
Normerica's Team was lucky enough to be invited back to the original Contemporary Chalet site by the Sarah Richardson Design Team to participate in the final reveal.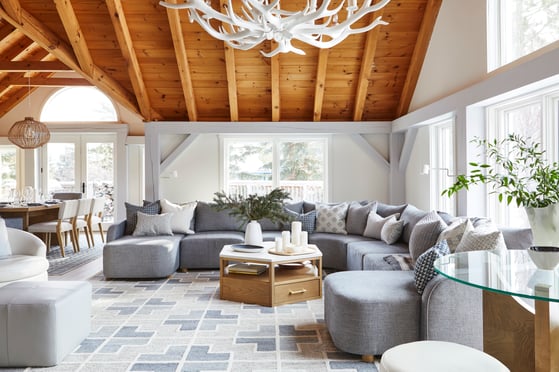 In episode 41, Sarah welcomes the Normerica team as she reveals the ground floor of the Contemporary Chalet! In this episode, we get a sneak peek into the transformation of the lower level: bathroom, laundry room, and guest room. The biggest reveal and design evolution since the original build in 1986 is definitely the painted-out staircase and timber ceiling throughout the ground floor.
Find out how the Normerica team really feels about painting the timbers white as opposed to leaving them in their natural wood stain!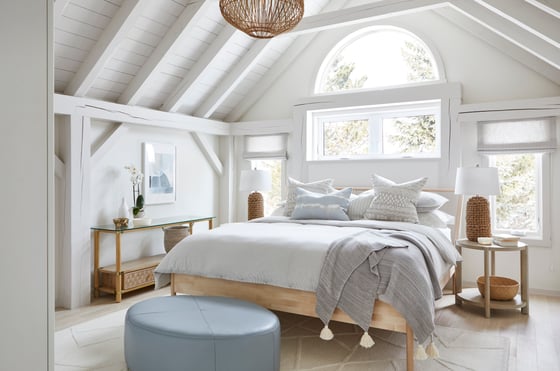 In episode 45 of Design Life, the Normerica-built Contemporary Chalet has completed its chalet evolution. This original Normerica timber frame chalet design from the 1980's had a unique inverted floor plan in order to take in the beautiful sights and surroundings and while the original chalet plan has kept up to date with the changing times, the interior design has not.
Sarah Richardson took on this dated chalet design and completely transformed the interior of the home with a fresh and modern makeover. Without replacing a single window or door and keeping the heritage and architectural beauty of the timber frame intact, Sarah brought this Contemporary Chalet into the modern day! It's a perfect example of how timber frame chalet designs can be leveraged to support a variety of styles and designs – making updates timeless and limitless.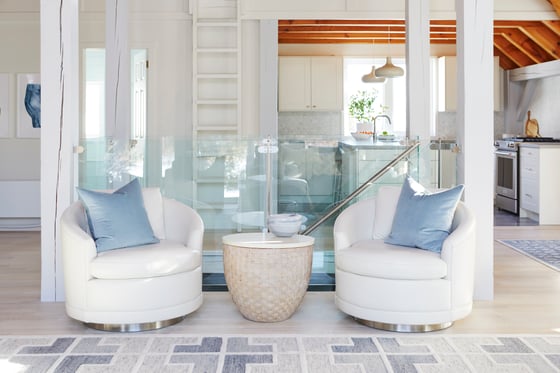 The final reveal of the Contemporary Chalet: we can't believe what a transformation the living room and the dining room have been through!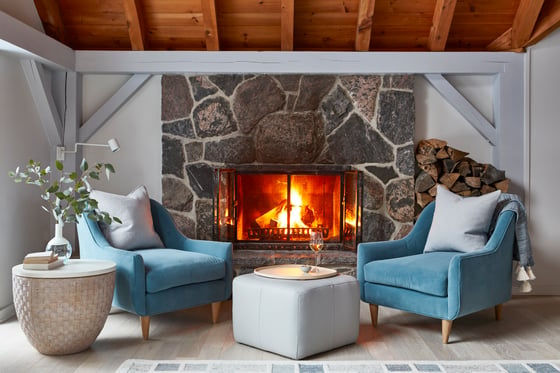 Take the tour in episode 45 with David McFarlane, Founder and former President of Normerica, and Chris McFarlane, current President, as they reflect on the original home and take in the beauty of Sarah Richardson's design. The father and son duo stand proudly behind Normerica's timber frame designs, a family business, and represent both the classic and modern design elements that timber frame has to offer.
---
An award-winning designer and television personality Sarah Richardson is the host and co-producer of eight HGTV lifestyle series which are seen in over 100 countries. Sarah's practical and inspiring approach to design teaches viewers how to turn ordinary spaces into magazine-worthy rooms! Pick up for her bestselling books: Sarah Style and At Home: Sarah Style (Simon & Schuster) at your local book retailer, and catch her on HGTV or right here on YouTube as she documents are daily Design Life and brings viewers along for the ride!
Sarah Richardson is always renovating, building and designing lots of projects all at once, and now she's sharing them with you in her brand-new Design Life video series. It's REAL LIFE, REAL DESIGN - a brand new as-it-happens series and it's only on the Sarah Richardson YouTube channel. You can watch ANY TIME, from ANYWHERE in the world, and you can vote, weigh in, and be a part of the action as it all unfolds!
About Normerica
Since 1979, Normerica has created the highest quality timber frame homes and buildings across North America and around the world. Our decades of timber frame experience and expert in-house design capabilities have given us the ability to offer a high level of customization and design flexibility – a key advantage of timber frame homes and post and beam construction.