When Sketching Out Your Dream Home or Cottage Design, Don't Forget to Add a Three Season Room to Your Wish List
Ah, the feeling of relaxing or dining outside while soaking in the views and the sounds of nature – there's nothing better. Being able to enjoy the outdoors is always a key component to our client's timber frame home dream. However, with our wild Canadian climate (and bug season!), these perfect outdoor days can feel limited.

Enter the Muskoka room – a three-season room in your home that allows you to bring the outdoors in (and the indoors out!) all the while being protected from the elements and extending the outdoor season. Muskoka rooms have become a 'must-have' for our clients. It's become rare for us to build a home without one!
What is a Muskoka Room?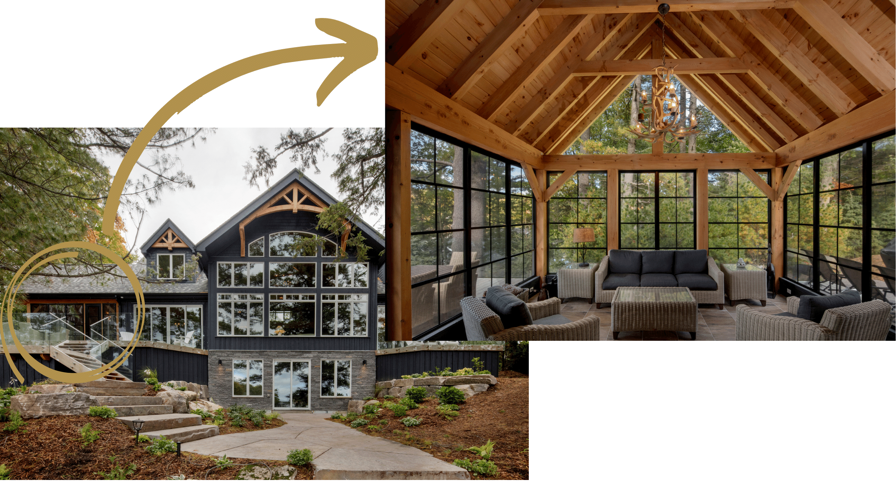 Muskoka rooms are also known as sunrooms, three-season rooms, or screened-in porches. The defining feature of a Muskoka Room is that rather than walls, it is packed with windows, most often floor to ceiling. Unlike the name suggests, these rooms are not limited to being used in cottage designs. They are a fantastic addition to country or urban timber frame homes. We regularly include screened-in rooms on these types of buildings for our clients. Muskoka Rooms are positioned to ensure a great view of the property and allow easy access to the outdoors.

A Normerica timber frame Muskoka room is particularly special. Featuring windows placed between heavy timbers and a soaring cathedral ceiling with beautiful truss designs, these rooms are very special places to spend time.
Why is a Screened-In Porch / Muskoka Room a "Must-Have" in Your Cottage Design?
When our clients are sitting down with our timber frame home / cottage designers to talk through their dream home, 'Muskoka room' is always high on their wish list. It's easy to understand why. Our clients have fallen in love with their piece of land and want their timber frame home to allow them to use and enjoy it. What better way than with a three-season room that has the feeling of being outdoors? With all the windows open, the breeze, the smells, and sounds surround you the way they would if you were outside. However, you are protected from the harsher sides of being outdoors: the direct sun, the rain, the wind, and maybe most importantly – the bugs!

Muskoka rooms also create a coziness that's hard to achieve in an outdoor space, especially in the evening. With soft lighting and a fireplace, a screened-in porch is a natural gathering place when the sun goes down. Muskoka rooms often include comfortable furniture like you would find indoors, and sometimes even a TV. With the warmth of a fireplace or in-floor heating, a well-built three-season room can be used well into the fall and in the early spring here in Ontario.

Although most of our clients are building their forever home, adding a Muskoka room is great for adding resale value to your home. Real estate agents report that Muskoka rooms are coveted features for buyers of cottages and country properties.
Best of Muskoka Room Designs
If you are thinking about building a screened-in porch into your cottage plans, here are a few of the best Muskoka room designs to provide some inspiration.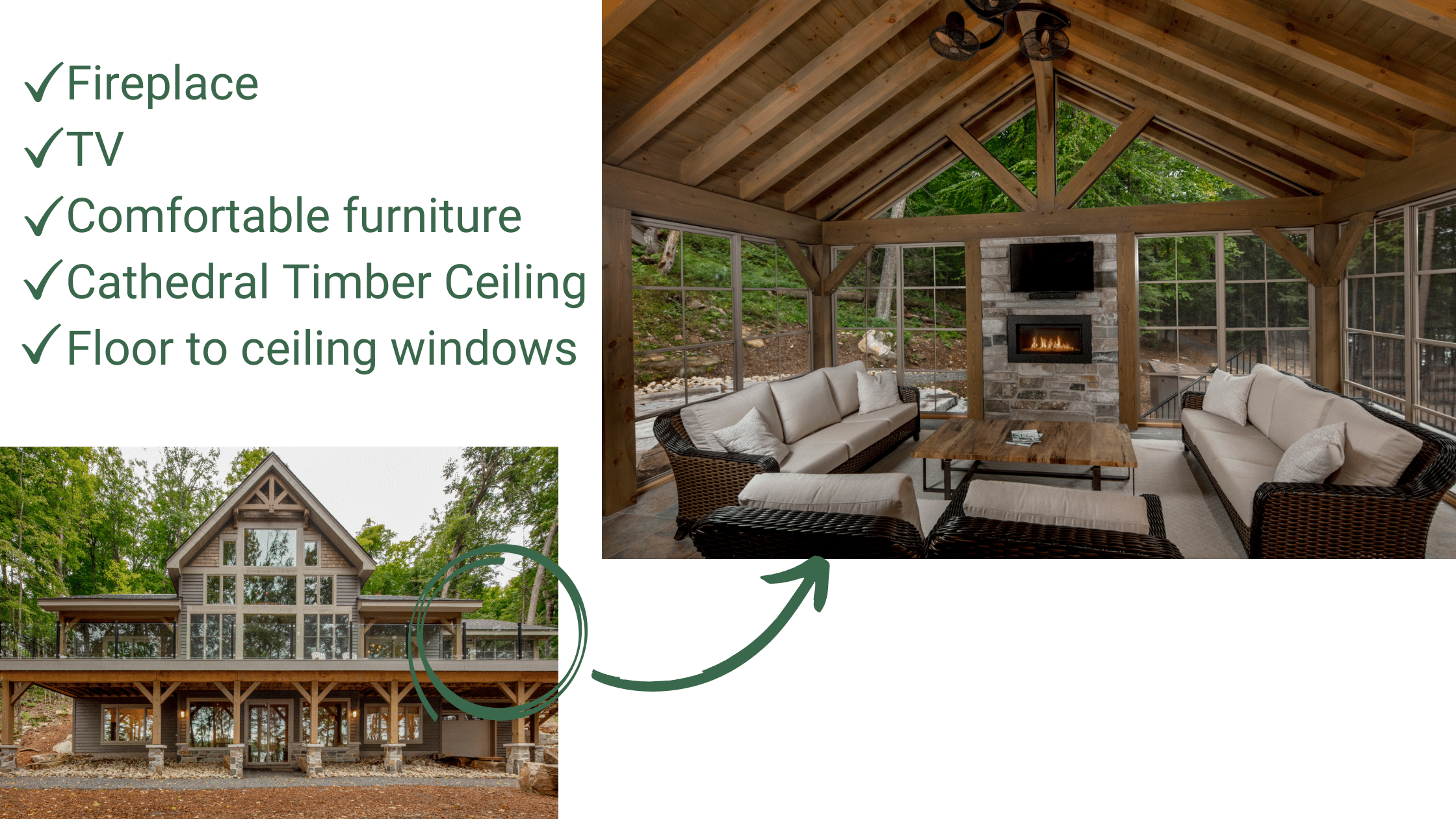 This Muskoka room is located off the side of this gorgeous cottage and overlooks the forest as well as down to the lake. This three-season room features floor to ceiling vinyl windows that stack up or down to provide a truly outdoor feel. The cathedral timber frame ceiling is both impressive and fits in perfectly among the trees. The comfortable furniture, gas fireplace, and TV bring a feeling of luxury to the outdoors.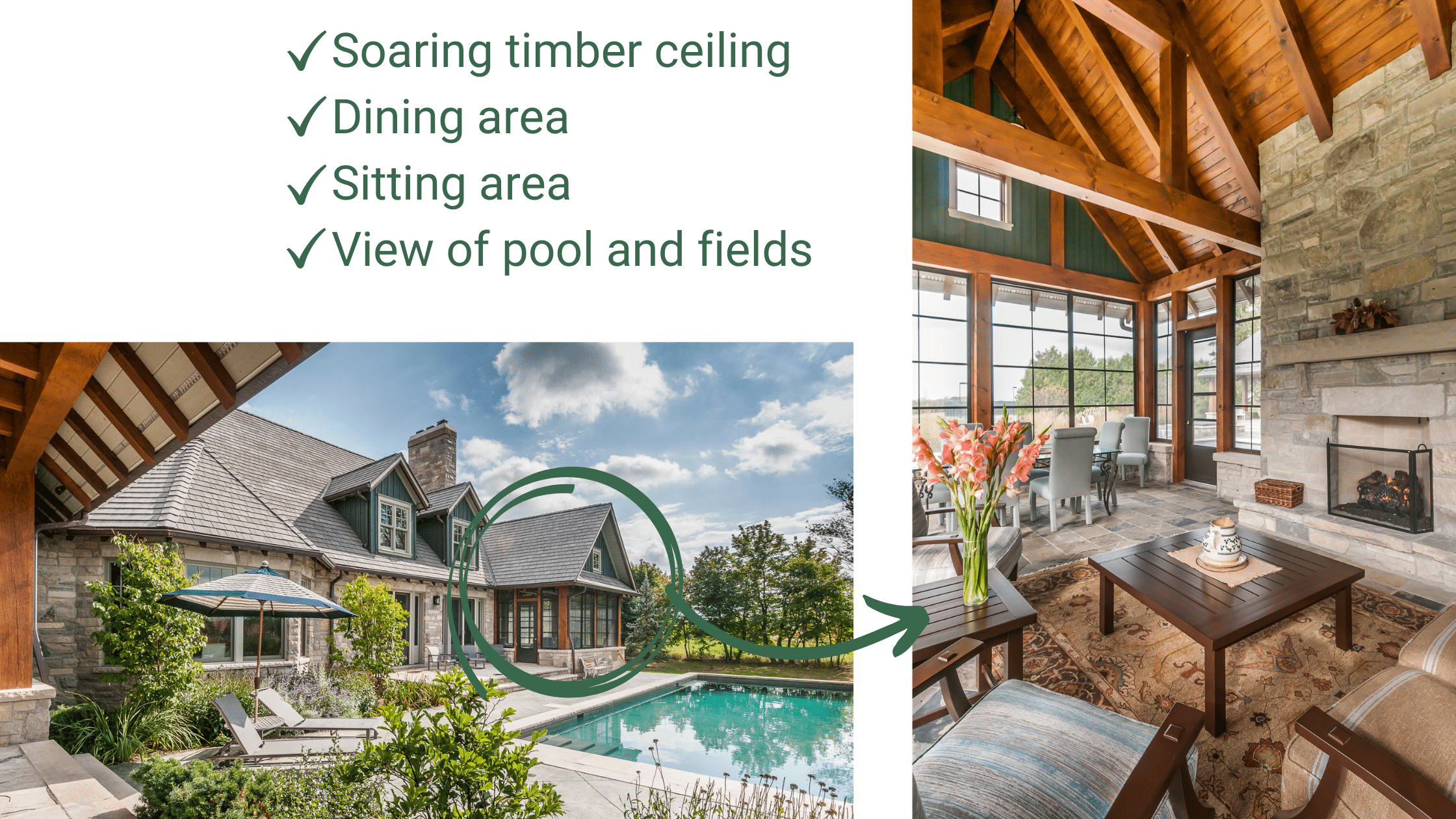 This country estate has a very large Muskoka room to accommodate for both a seating area and dining area. The soaring cathedral ceiling allows for a gorgeous stone fireplace which acts as a great focal point. This luxury screened-in porch overlooks the pool and fields beyond the house. Lovely stone floors and rugs adds to the room's rustic elegance.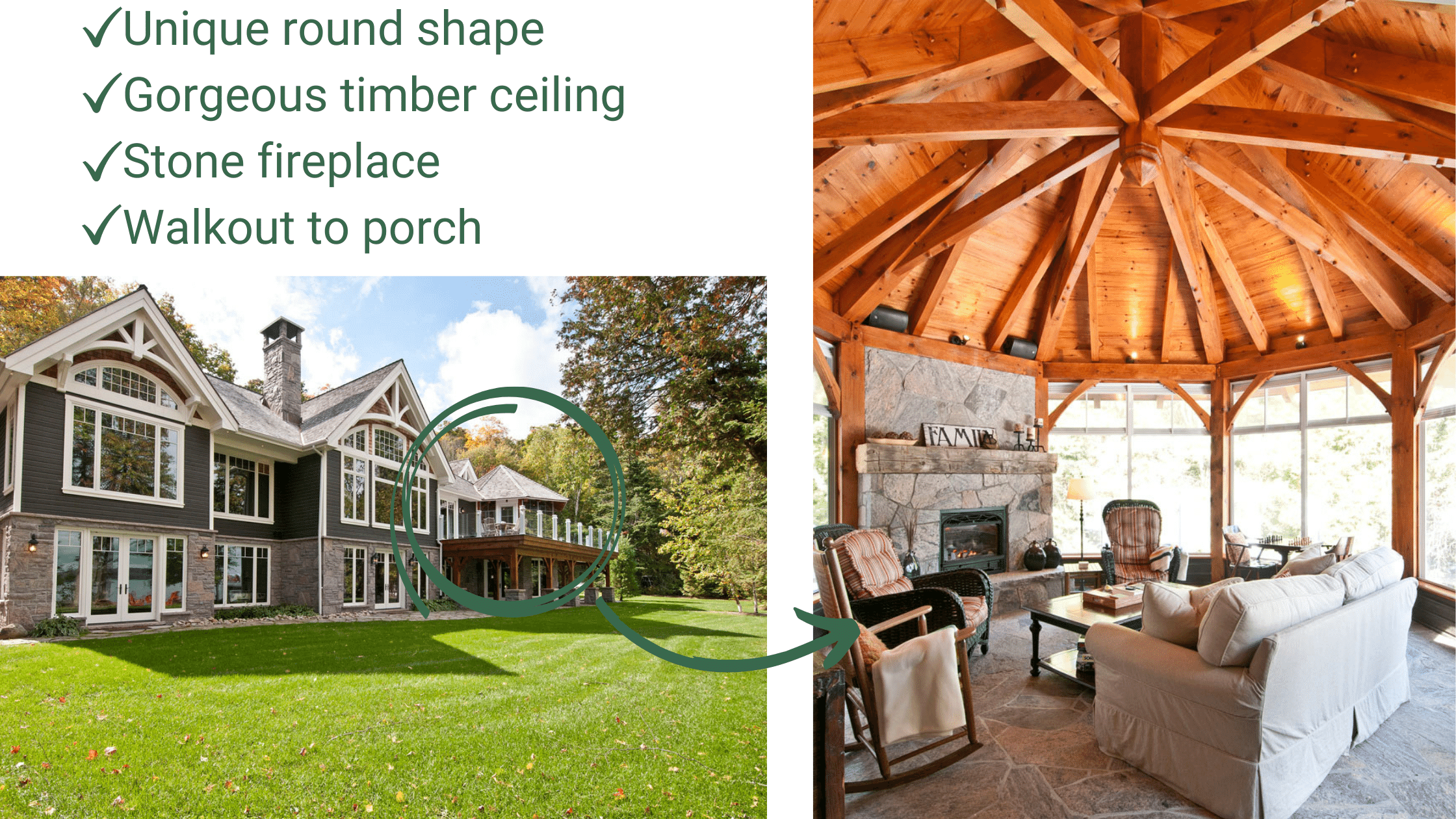 This luxury house has a show stopping Muskoka room. The lakeside cottage is designed with a round shape and stunning cathedral ceiling which provides the feeling of a lookout over the lake. Here you see the vinyl windows stacked up to allow the breeze to flow through. A fireplace and comfortable cottage furniture complete this special three-season room.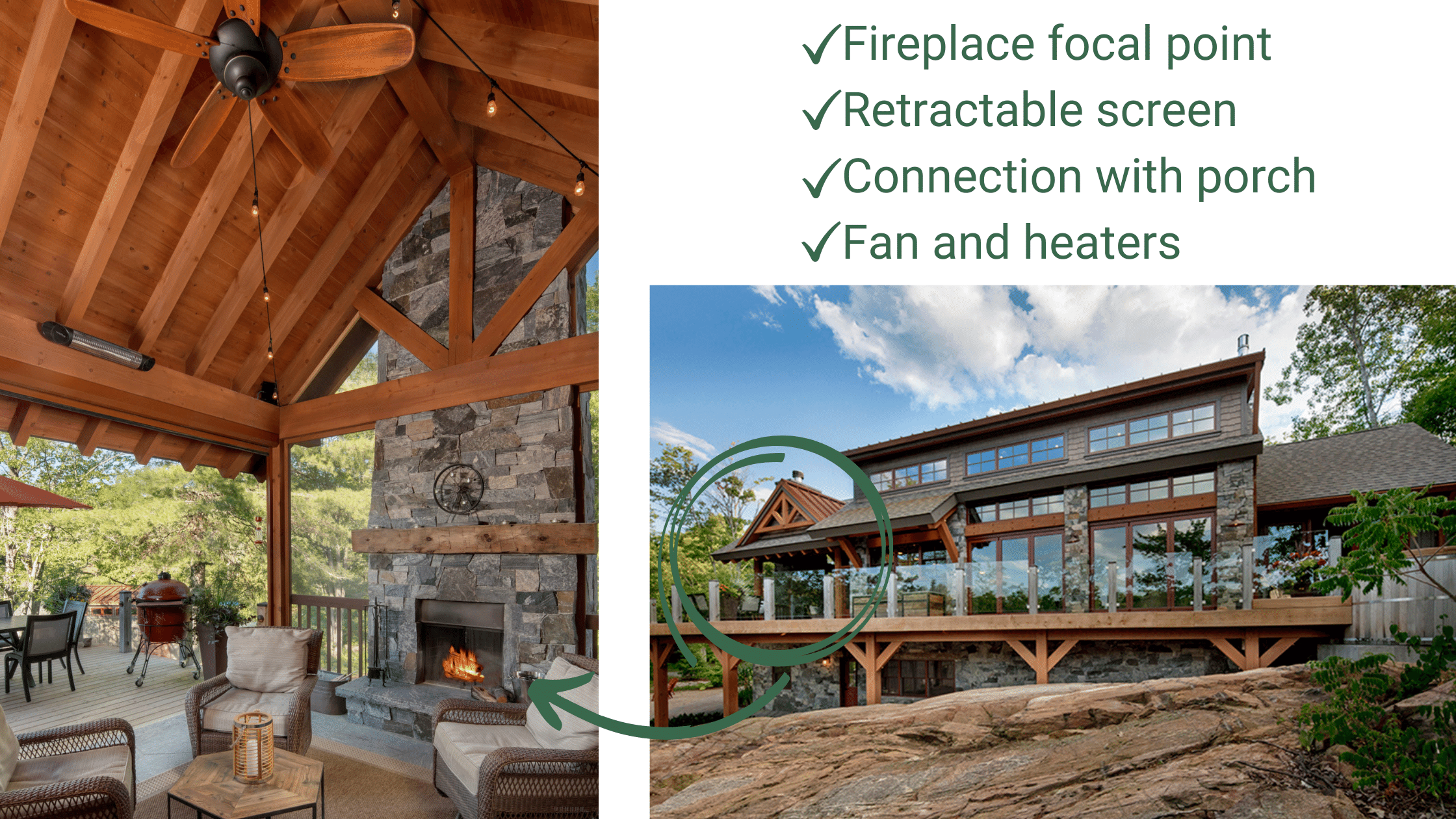 This Muskoka room features screens in place of windows. A large, motorized screen can be raised to have the room open to the porch beside it. The cathedral timber frame ceiling and stone wood burning fireplace cozy up the space for easy entertaining day or night. A ceiling fan is a popular choice for cottage designs to combat hot summer temperatures.
What to Consider when Incorporating a Muskoka Room / Three-Season Room into Your Timber Frame Cottage Design
How Do You Plan to Use Your Muskoka Room?
It's important to put some thought behind how you envision using your Muskoka room. This will influence the cottage design in terms of where the Muskoka room might be in relationship to the interior rooms of the main building. Additionally, the placement of the screened-in room considering the outdoor features of the property. Our timber home / cottage designers are experts at taking your wishes on how you would like to use a room and turning them into a plan on paper. Some things our in-house cottage design team would recommend you consider:
What do you plan to do in the screened-in porch? Lounging? Dining? Yoga? This will not only help determine the size of room but also influence which rooms would make the most sense to have the Muskoka room connect to, such as the kitchen if dining is a priority.
What part of your property do you want to be looking out at from your Muskoka room? Do you envision being able to see the sunset or sunrise?
Do you see yourself using the three-season room more at night or during the day? This might influence whether you would want a fireplace as well as type and amount of lighting.
Giving some thought to how your family would use a Muskoka room will allow our timber frame home / cottage designers to create the perfect Muskoka room for your family's needs.
How Your Muskoka Room Works with Your Overall Timber Frame Home
Muskoka rooms are generally located off one side of the home. This is so that the three-season room does not block the views from the main living areas.
You'll see this on many of our finished timber frame home projects as well as our pre-designed timber frame house plans.
There are, however, cases when you'll see the Muskoka room off the back of the home:
In a more urban, constrained lot where there is more room to the back of the lot, and the views aren't the priority.
In more of a three-season cottage where the Muskoka room will play a key role in the main floor layout.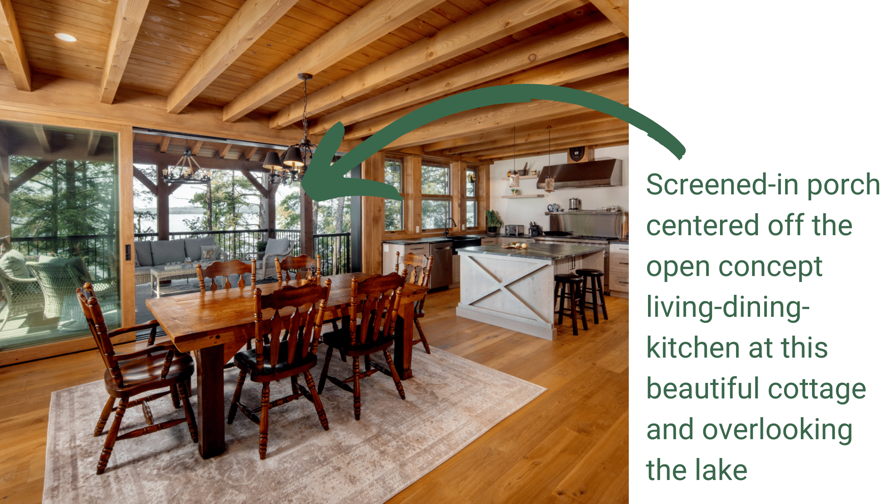 Another consideration: if budget does not allow for a Muskoka room, the house / cottage design can often be planned in such a way that allows for the future addition of a screened-in porch.
Design Options for Your Muskoka Room
Since a Muskoka room is nicely sectioned off from the rest of the home, we've seen clients take this room as a chance to deviate from the overall style of the rest of their home / cottage design. Maybe the main house is light and white, but the three-season room has more wood and is a bit darker and cozier. For some people who don't like the mess of a real wood burning fireplace inside their home, they may opt to put one in their screened-in porch, as it's more of an outdoor space.
Since the windows and doors are often different in this room, clients can choose a different window and door colour scheme than the remainder of the house. Lighting options such as lights in the beams or a chandelier will work well to light up the cathedral ceiling in the evenings. The bottom line is that Muskoka Rooms are a fun place to change up the décor and create a truly unique room in your timber frame home / cottage design.
Muskoka Room Enclosure Options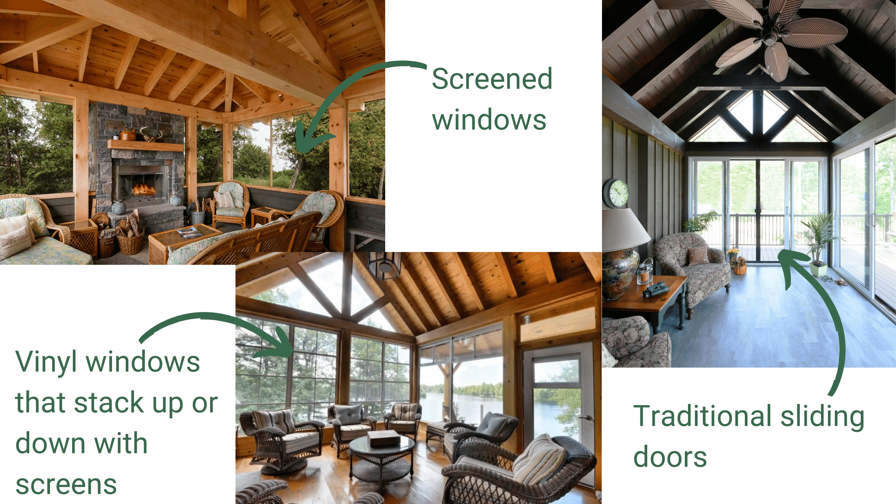 One of the biggest decisions about your Muskoka room will be what type of windows and doors you will use to enclose it. Remember, a three-season room has no walls (other than the wall connecting it to the home, and sometimes a half wall below the windows). There are three main ways to enclose your Muskoka room:
Screening: Sometimes the window openings in a three-season room are simply covered with screening. You are protected from the overhead sun and rain, as well as the bugs, however, the temperature cannot be controlled, as the widows cannot be closed. This is the lowest cost option and is often chosen for more rustic three-season cottages.
Vinyl Windows: Vinyl windows that stack up or down, such as the WeatherMaster System from Sunspace, are the most popular choice of Muskoka room enclosure that we see with our clients. These windows are custom made to fit between the timbers of your three-season room. The vinyl windows stack all the way up or down or even in the middle to create the amount of ventilation you want. They are not fully weather tight; however, they will block out the rain and wind and will hold some heat. These windows fall in the mid-range of cost.
Traditional Windows: Muskoka rooms can be enclosed with traditional windows and doors like you would use in the rest of your house. In this case, the three-season room would be weather tight, and you could heat and cool it as you would the rest of your home. Again, what makes this room different from the rest of the home is that there are no walls – only timbers and windows. This enclosure option comes with the highest cost of the three options.
Whatever enclosure option you choose, you'll have the feeling of lots of windows and light to maximize your views in your Muskoka room.
Muskoka Room Flooring Choices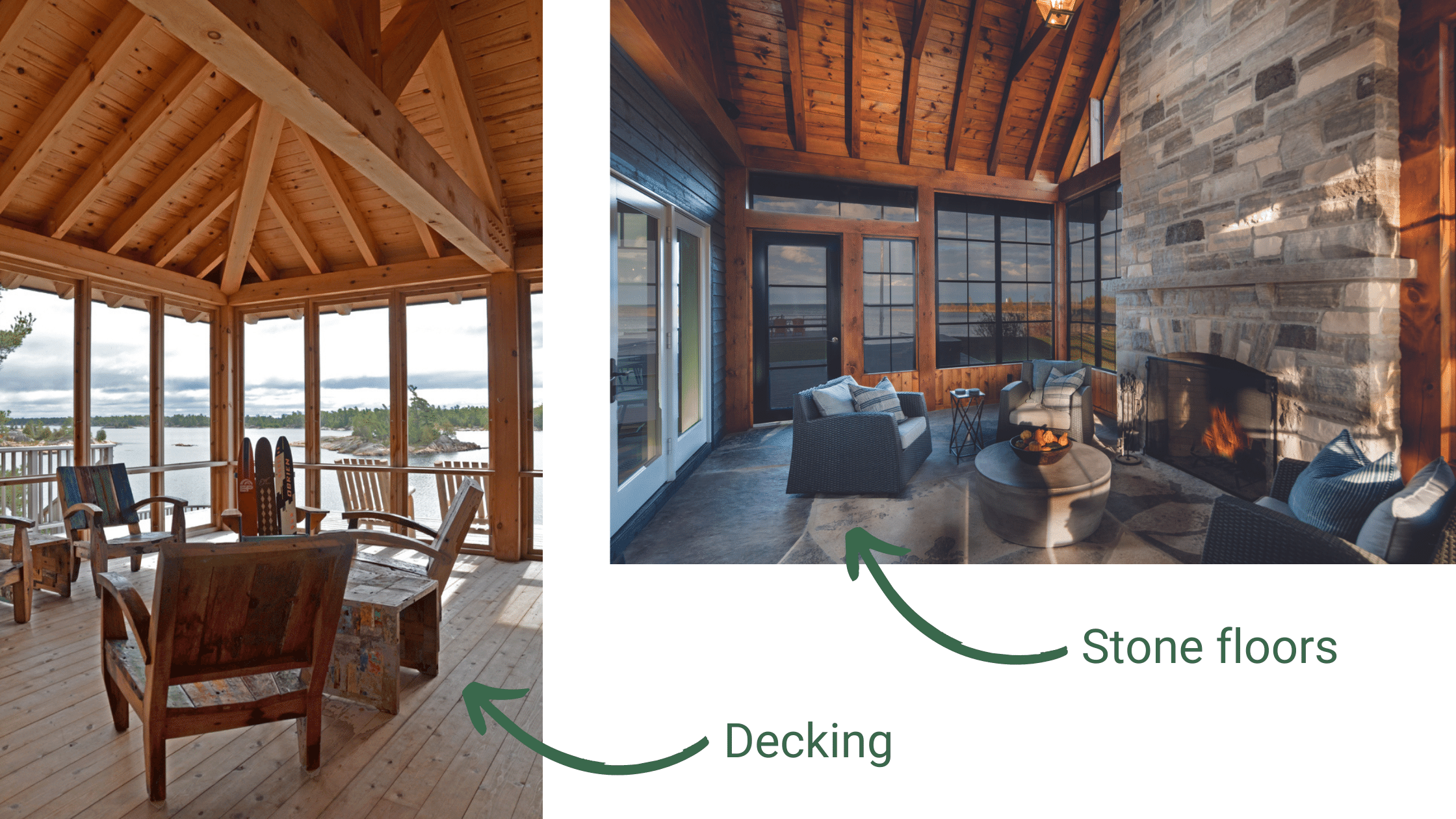 There are many Muskoka room flooring options, however they will depend on your type of enclosure. It can be as simple as decking, often with screening under the deck to keep the bugs out. This option would generally only be used for the screen enclosure option in a true screened-in porch.
For both the screening or vinyl window enclosure types, you will want to use a waterproof flooring option since the windows aren't weather tight. Stone is a very popular choice for all types of Muskoka room enclosures. The rustic feel of the natural stones is another way of bringing the outside in, as well as being excellent for water, snow, and withstanding temperature changes.
If you've enclosed your three-season room with traditional windows, your flooring options are the same as throughout the rest of your home since your Muskoka room is weather tight.
Heating and Cooling Considerations for Your Muskoka Room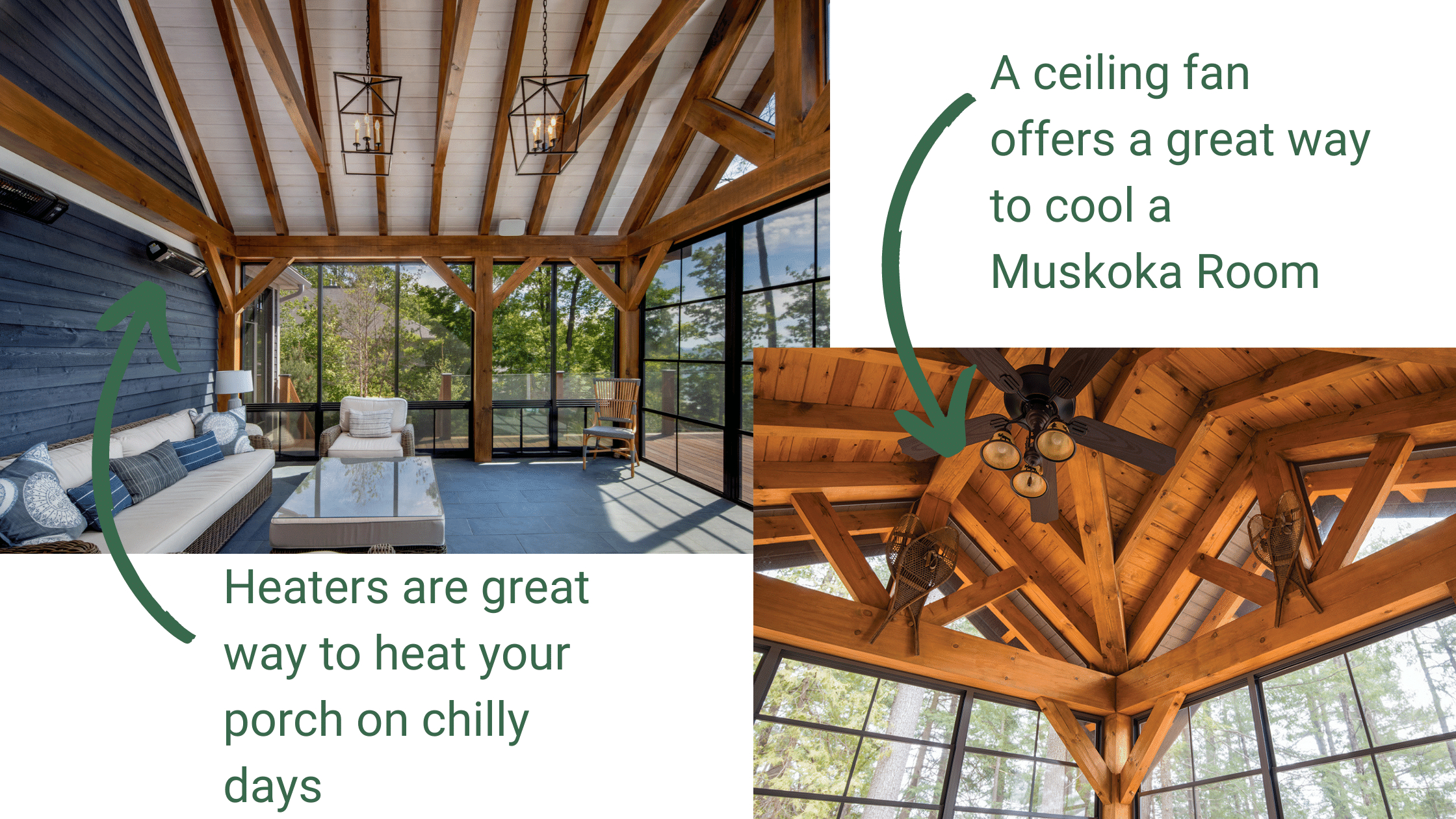 There are a variety of heating and cooling options for your Muskoka room to help keep you comfortable through the changing seasons. If you are using traditional windows, you'll likely heat and cool your three-season room the same way as the rest of your home / cottage. For vinyl windows, you can consider in-floor heating, a fireplace (either gas or wood burning), or even wall heaters to heat your room. For true screened-in porches, a fireplace is a lovely option. Note, if buying a fireplace insert for screened or vinyl enclosed Muskoka rooms, you'll want to be sure to choose a fireplace that's specified for outdoor use.
For cooling your vinyl window or screened in porch, you should consider installing an overhead fan. With all the windows in a Muskoka room, at various times of day the light can be intense and make the three-season room uncomfortably hot; an overhead fan can make a big difference!
Your Muskoka Room Electrical Needs
Thinking through your electrical needs is particularly important in your Muskoka room. With a lack of walls, it can be difficult to run electrical, especially after the three-season room is built, so some forethought is helpful to ensuring you have electricity where you need it.

Outlets on the house side of the Muskoka room is straight forward and will be useful. People will most often want an overhead light and/or fan, so you'll want to plan for that. But there are some other electrical considerations for your three-season room:
Do you want a TV in your Muskoka room?
Will there be in-floor heating in your three-season room?
Does your fireplace selection require electrical?
Do you want lamps in specific spots of your screened-in porch?
Will you have wall heaters?
Do you want to have speakers for music?
All important questions to consider in the planning stages of your home / cottage design. Some forethought and discussions with your timber frame home / cottage designers can go a long way in ensuring you are able to use your Muskoka room the way you envision.
Muskoka Room Building Code Requirements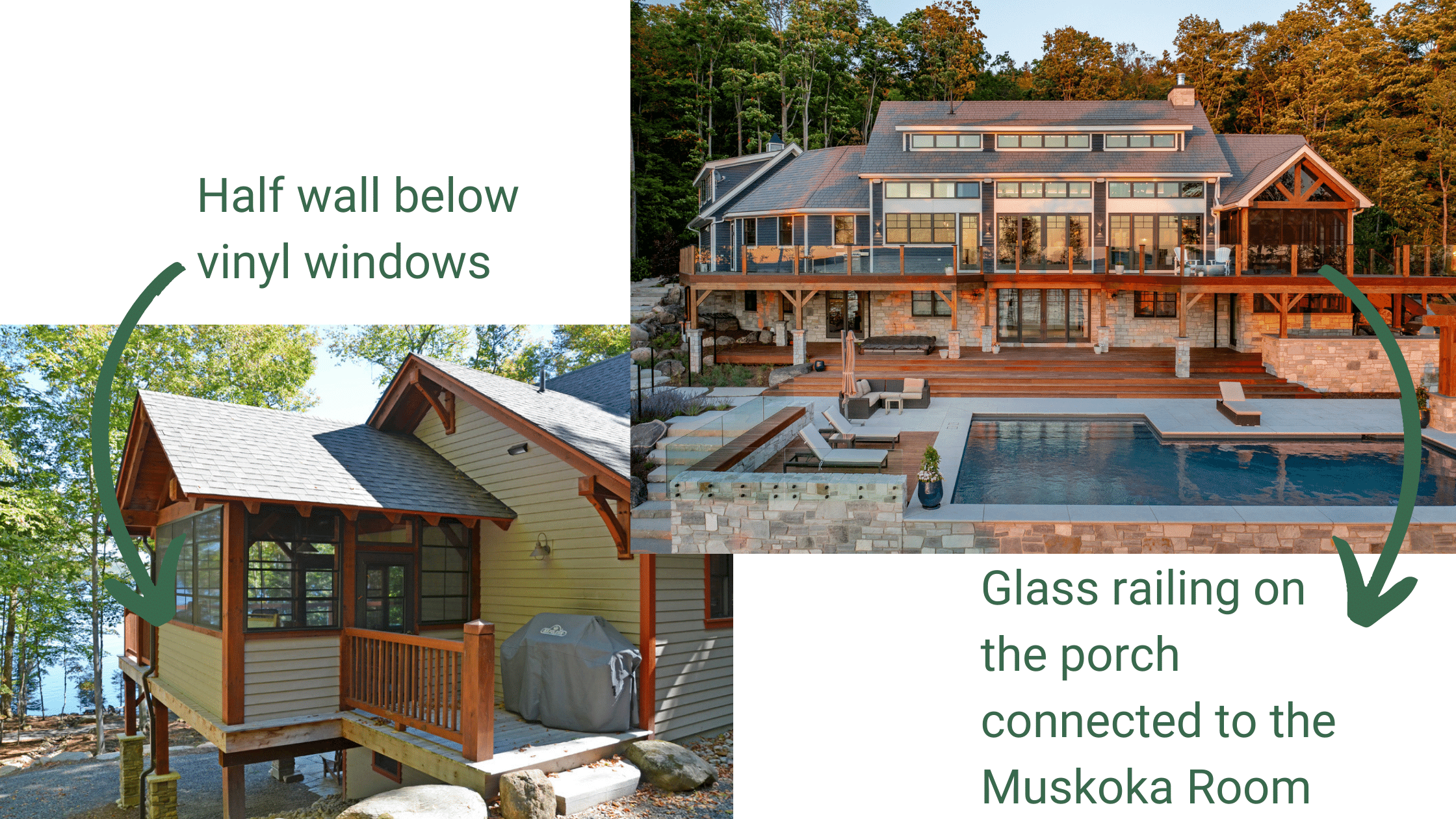 There some building code restrictions that might impact your Muskoka room choices, namely lot coverage and height.

It's important to note that a Muskoka room is considered part of your 'lot coverage' amount. This is the amount that you are allowed to cover your lot with structures according to your location building code. Some people mistakenly think that this type of room isn't included in that calculation.

It's also important to consider how high off the ground the Muskoka room will be. If it will be more than 2ft off the ground and you are using screens or vinyl windows, you will be required to have a railing, or a half wall (42" high) below your screens or vinyl windows. Most of our clients prefer to have full height windows, so a nice solution is to have a glass railing off the deck beyond the three-season room to preserve the view while also keeping everything to code.
Create Your Luxury House Retreat with a Muskoka Room
A Muskoka room is a fantastic addition to your timber frame home / cottage design. A three-season room designed to connect you to your land while providing you with an many indoor luxuries as you desire. These are special spaces that become natural gather places for friends and families, and where memories are sure to be made.

Our team at Normerica are experts at creating the ideal timber frame house design for you and this includes a perfect Muskoka room that will work for you and your family.
Be sure to check out our extensive timber frame house / cottage plans library for Muskoka room inspiration.
About Normerica
Since 1979, Normerica has created the highest quality timber frame homes and buildings across North America and around the world. Our decades of timber frame experience and expert in-house design capabilities have given us the ability to offer a high level of customization and design flexibility – a key advantage of timber frame homes and post and beam construction.