Work Together with the Normerica Experts to Design and Build Your Timber Frame Dream
Once you've browsed our timber frame house plans and completed timber frame projects, you probably have a pretty good sense of your dream timber frame house, cottage, or cabin. But how do you get from those initial ideas to your final finished timber frame project?
Designing and building a custom timber frame home can seem daunting at first, but once you start working with Normerica's team of timber frame experts and get a good understanding of the design and build process, you'll be able to settle in and enjoy the experience of designing and building your dream timber frame home or cottage.
At Normerica, we not only supply a superior timber frame product, but we offer a range of flexible services to simplify the building process and meet your specific needs. We can do as much as you need, from design/engineer/manufacture of a building package, to a full turnkey build.
A Simple 3-Step Process to Designing & Building Your Timber Frame Dream
Let's keep the timber frame project simple; all of the services and products Normerica provides fall into 3 main buckets:
Design
Supply
Build
Let's explore the process in more detail.
1. Designing Your Timber Frame Dream
Normerica's timber frame house plans and completed timber frame projects may provide exactly what you are looking for OR can simply inspire ideas for your timber frame project. Our existing house plans and projects present a myriad of design options including traditional and modern designs, bungalows, cottages & cabins, modern farmhouse-style plans, log house-inspired designs, A-frame house plans, stylish Scandinavian plans, and more.
You can choose:
an existing design 'as is' from our extensive library of house plans
to customize one of our existing house plans
to work with Normerica to create an entirely new custom design from scratch
to bring in your own architect for the Normerica team to collaborate with
No matter which design path you decide upon, the Normerica in-house design and engineering team will work to make your dream timber frame vision a reality.
We want to help make your timber frame build as predictable and enjoyable as possible. During the design stage, we help you with many aspects of planning beyond simply nailing down a set of drawings. These include help with budgeting/cost considerations, guidance on construction financing, and design rendering services were we can create photorealistic images of your building to help you better visualize the end product and choose materials and colours for siding, windows, and roofing.
The beginnings of a new design: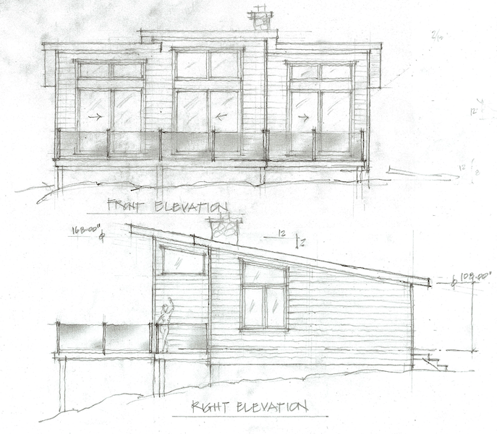 A photorealistic rendering: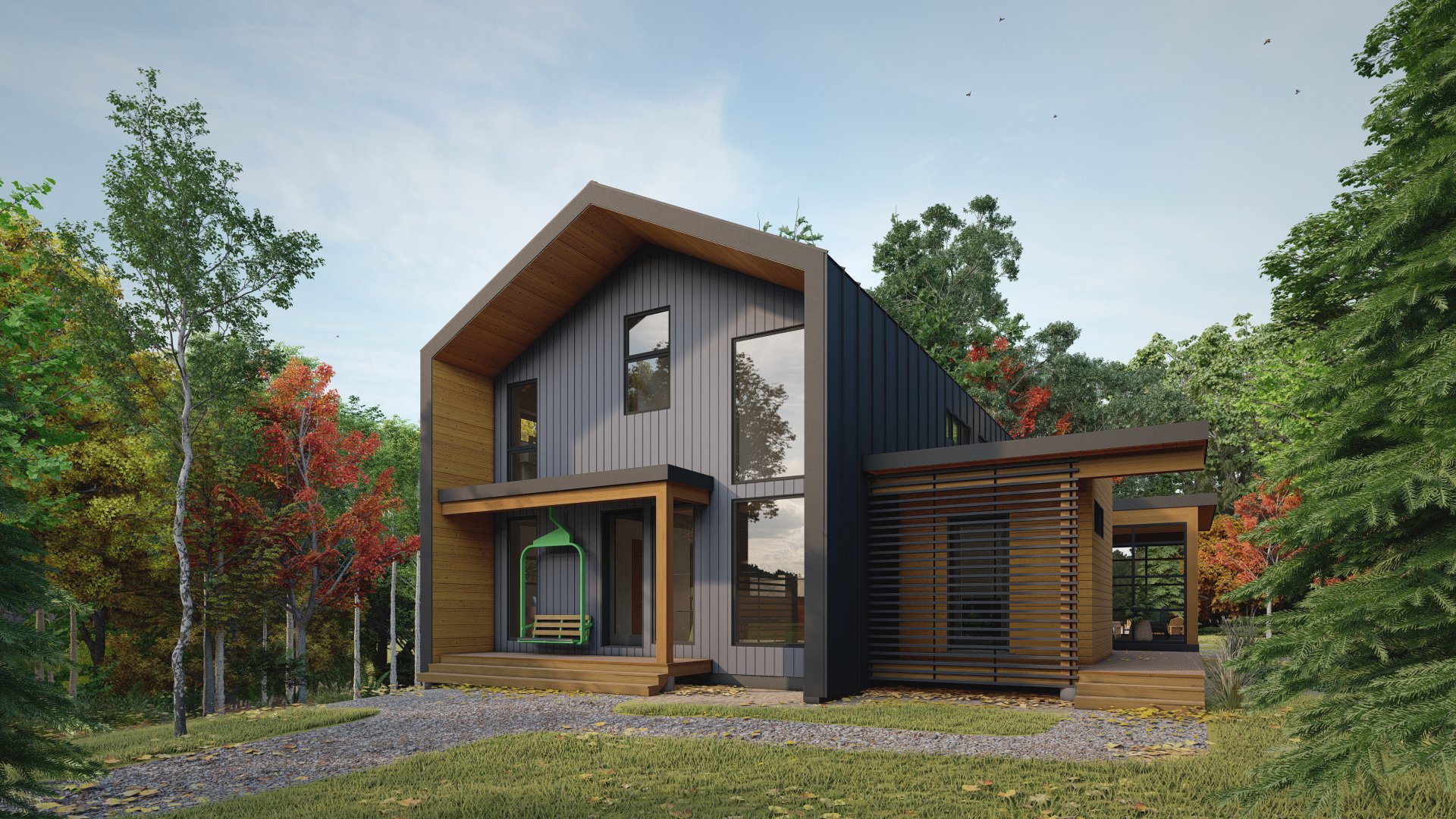 2. Manufacturing and Supplying Your Timber Frame Building
The Normerica team uses the finalized timber frame house design you've approved to engineer and manufacture your timber frame building. The material package includes everything from the top of the foundation to the roof, ready for shingles.
To help you understand what is included in a typical material shell package, we've created this high-level list:
Normerica's authentic timber frame in eastern white pine or douglas fir
R30 insulated wall system for exterior walls
R40 insulated cathedral roof system for timber frame portions of the house
R60 insulated roof system for non-timber frame portions of the house
Pine tongue & groove ceiling finish for cathedral and porch ceilings
First and second level subfloor systems
Interior partition walls (site framed)
Windows and exterior doors in the colours and materials chosen by the client
Second level sleeper sub floor for timber frame
portions of home
Prefinished wood siding in the profile and colour chosen by the client
Prefinished wood exterior fascias, soffits, and exterior window/door casings
Detailed engineered building plans and shop drawings
A Normerica Technical Representative will be on your site for a set number of days to help the builder erect the timber frame structure
Attached garages, exterior timber trusses/brackets,
and porches are included where shown
Decks are not part of our standard package, but can be supplied

Blow apart image of the main components of the Normerica materials shell package:

Normerica offers a variety of customizations to suit your needs and budget. While working with the Normerica team on your design and material package, we will provide you with options to ensure your final timber frame project is everything you envisioned.
3. Timber Frame Build Options
You have the ultimate flexibility when it comes to building your dream timber frame home or cottage. Normerica is an HCRA and Tarion licensed home builder and has an in-house construction management services team that can support your build with your choice of involvement. We can:
Completely manage your timber frame build from site preparation to installing the final touches
Manage the construction of your timber frame shell package
Assist you in finding, qualifying, and securing a builder to manage the construction projects - our extensive network of builders experienced with timber frame construction project becomes your extensive builder network
If you have your own builder, the Normerica experts are still part of your construction team. Normerica always provides an experienced on-site technical representative to support your builder throughout the construction of the timber frame shell package. Although any experienced custom home builder can erect your Normerica timber frame shell, Normerica is there to support your builder to ensure your timber frame home, cottage, or cabin is constructed to our exacting specifications.
Watch a Normerica Timber Frame Home Build Now:
Working with Normerica Timber Homes
Normerica Timber Homes has been setting the standard for exceptional timber frame structures for over 44 years.
Over that time, we have integrated the perfect blend of design excellence, precision engineering and workmanship, and modern building science and technology. Choosing a Normerica timber frame home means selecting the highest quality home, proven to stand the test of time.
Deciding on who you will work with on your timber frame design and build? Consider this:
Timber Frame Craftsmanship - for the ultimate design flexibility
40+ Years of Experience - we have stood the test of time
Superior Energy Efficiency - we exceed building codes
Environmental Comfort - we use low-emission building materials
Sustainably Sourced - all our timber is sourced sustainably
Environmentally Respectful - minimized waste with state-of-the-art systems
Net Zero/Energy Star Compatible Building System - we are Net Zero and Energy Star ready
Industry Leading Warranties - our warranties are second to none
Award Winning - for our innovative designs and building systems
Our past customers are some of Normerica's biggest fans. See what they have to say about our design and build process:
"Normerica is the most professional, personal, and accommodating company I have worked with. Their attention to detail at every level was by far a "10" on any scale." P. Vickers, CO
"We love our home on Lake Huron and so does everyone who sees it. I have built thousands of units over 30+ years in the housing business and as an "insider", I was very impressed with the Normerica product and process." I. Cook, ON
"The house is exactly as we first designed it. We are very appreciative of the fine quality of both wood and craftsmanship that went into the materials delivered." R. Patrick, ON
As we look to the future, the Normerica team will continue to set our sights on leading the industry in terms of design, building science, and service. As our customers' needs evolve, so will we. Whether offering more contemporary designs or using the latest in engineered wood products, we want to continue to showcase the beauty, warmth, and versatility of timber frame structures.
Want more details on the design process, shell package components, and construction services options?
About Normerica
Since 1979, Normerica has created the highest quality timber frame homes and buildings across North America and around the world. Our decades of timber frame experience and expert in-house design capabilities have given us the ability to offer a high level of customization and design flexibility – a key advantage of timber frame homes and post and beam construction.