Make Your Timber Frame Dream Home a Reality with the Right Construction Financing Option
Building a new home is an exciting endeavor. The opportunity to live in the home of your dreams and to be a part of creating that home from design through to finishes is a hugely rewarding experience. However, deciding how you will finance your project can often feel like an overwhelming (and less exciting) part of the process.

Our team of timber frame experts have got the design and execution side of your project figured out, but people often ask us questions about financing the construction of their timber frame project. There are three main ways our clients are choosing to finance their timber frame project:
1. Cash
If you have the funds available, this might be the route you take for financing your timber frame project. However, if you don't have all cash readily available to pay for the project, there are two construction financing options you'll want to consider:
2. Construction Loan
3. Home Equity Line of Credit (HELOC)
What is a Construction Loan?
One construction financing option is a construction loan, also known as a builder's or draw mortgage. This is a short-term loan facility that is used to finance the construction of your new home. It is a bit more complicated and can be more costly than a HELOC, but it's a great option if you don't have equity to access from another property.

Different than a traditional mortgage, a builder's mortgage is draw-based and allows you to access funds on a progress advance basis based on pre-determined stages of the construction process. A typical schedule of builder's loan advances might look something like this:
| | | | |
| --- | --- | --- | --- |
| Draw Stage | Est. Progress Completion | Stage of Construction | Est. % of Mortgage Advanced at Stage |
| 1 | 15% | Excavation and foundation have been completed | 15% |
| 2 | 40% | Building is dried-in (weather tight) and able to be "locked up" | 25% |
| 3 | 70% | Heating system installed, plumbing and electrical have been started and drywall is on | 30% |
| 4 | 100% | House is completely finished (or very near) and is able to be lived in | 30% |
Prior to each of the draw stages being completed, the construction loan lender will often send an inspector to confirm completion of the stage before the funds are released.

Once the project is complete, you have two options:
pay off the loan or
convert the construction loan to a traditional mortgage
During the building process, the construction loan is interest-only on the amount of the loan outstanding. However once completed, the loan payments (or the payments on the new traditional mortgage) are made up of both principal and interest.
Construction Loans and Land
You can use the first advance of the builder's loan to help with the purchase of the land you plan to build on. If you already own the land on which you are planning to build, the first advance is available as equity takeout on the value of the property. If the property was financed, the construction loan will pay off any existing financing.

Other Construction Loan Considerations
A builder's loan is deemed higher risk than a traditional mortgage; as a result, down payments are higher – typically around 25-35% of the overall project cost.
To secure a construction loan, credit scores need to be high and you need to provide assurance that you can make interest-only payments on your loan while still handling all other living expenses.
To confirm the builder's loan, the lender needs to be provided with all appropriate build documentation, including construction drawings, permits, and detailed construction cost estimates – all of which Normerica will provide, or work with you to complete.
What is a Home Equity Line of Credit (HELOC)?
Another construction financing option is a Home Equity Line of Credit (HELOC) which is more straight forward than a builder's loan. As the name suggests, the HELOC allows homeowners to take advantage of built-up equity on an existing property to finance the construction of another. So, if you own your home and have worked hard over the years to build up equity in it, it's about to pay off. A HELOC is a fantastic option if you want to build a recreational property!

There are no draws or stages of completion hurdles like with a construction loan. How, when, and why the money is used is up to you (including for the purchase of land). You pay interest on the funds you draw while building. Once the home is substantially complete (usually 97%), the debt outstanding on the HELOC can be converted into a traditional mortgage.
How Normerica Can Help You Plan for Your Construction Financing and Shorten the Financing Timeline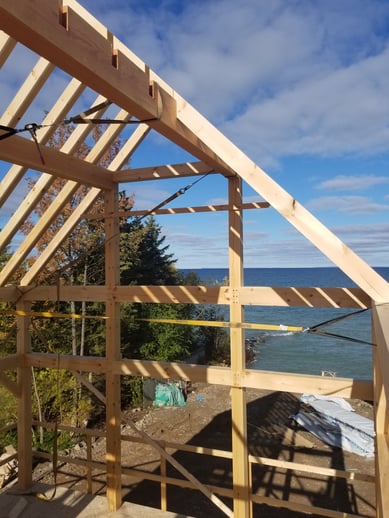 Although Normerica does not offer any in-house financing, there are a few ways that choosing Normerica will help you in financing your timber frame home construction.
Construction financing and your budget
Shortening of the construction timeline
Construction Financing and Your Project Budget
Whether Normerica is simply supplying a timber frame shell package, or fully involved in the construction of your timber frame home (through our construction management services), we will work with you to develop a practical budget for the complete construction of your home, from labour costs to finishes.

It is hugely helpful to tap into our team's expert knowledge and get a good picture of the full cost of your project. Armed with these numbers, you will be in the best position to determine the right financing option. We've been doing this for over 42 years, so we have lots of experience in build costs!

To find out more about budgeting for your timber frame home, check out these posts:
Your Timber Frame Construction Timeline and How It Impacts Your Construction Financing
Another factor when considering your construction financing options is the overall time the construction of your project will take. When using a construction loan or HELOC, the time it takes to complete the build will ultimately cost you money in interest.
There are few ways working with Normerica will ensure a smoother and ultimately quicker and less expensive build:
Our unique building system of prefabricated wall panels cuts down on on-site construction time, making your build faster and, ultimately, less expensive.
With every home we sell we include the time of a highly experienced Normerica Technical Representative who will work on-site with your builder during the critical stages of construction. This not only ensure your builder is supported by an expert in the Normerica product, but it has also shown to make the process faster and less prone to delays, which saves you money.
Explore Your Construction Financing Options to Find the Right Way to Fulfill Your Timber Frame Home Dream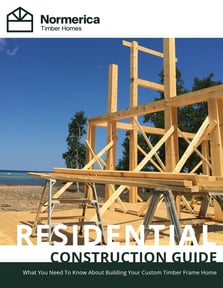 Normerica will assist you through the entire process of building your home – from creating a budget for you to explore your financing options and crafting your dream design to manufacturing and the construction of your home. Throughout the budget/design/build process, you will have a dedicated person here at Normerica to help with any questions you may have.

To learn more about construction timelines, budgets, and the overall process of building your dream timber frame home with Normerica, download our Residential Construction Guide.
About Normerica
Since 1979, Normerica has created the highest quality timber frame homes and buildings across North America and around the world. Our decades of timber frame experience and expert in-house design capabilities have given us the ability to offer a high level of customization and design flexibility – a key advantage of timber frame homes and post and beam construction.