House Design Cheat Sheet for Planning the Exterior of Your Timber Frame Home
Timber frame homes and cottages are stunning and unique both inside and out. Many people focus on the interior living spaces when thinking about the feel and style of a home. However, it's important to remember that the exterior of your timber frame home or cottage is the first thing you and your guests will see, and it's a wonderful chance to provide a glimpse into what to expect on the inside.
Curb appeal is important and timber frame homes have some wonderfully unique exterior elements that can be customized to make your home or cottage an individual reflection of your family's style and taste. We'll point out some exterior elements that you'll want to consider in creating a spectacular timber frame home or cottage for your family.
Notable Timber Frame House Design Exterior Elements
Let's explore and explain some key exterior elements to consider and customize on your timber frame house design:
Roof pitch and style
Gable trusses
Timber frame porch
Dormers
Roof overhangs
Exterior materials and colour palette
1.Roof Pitch and Style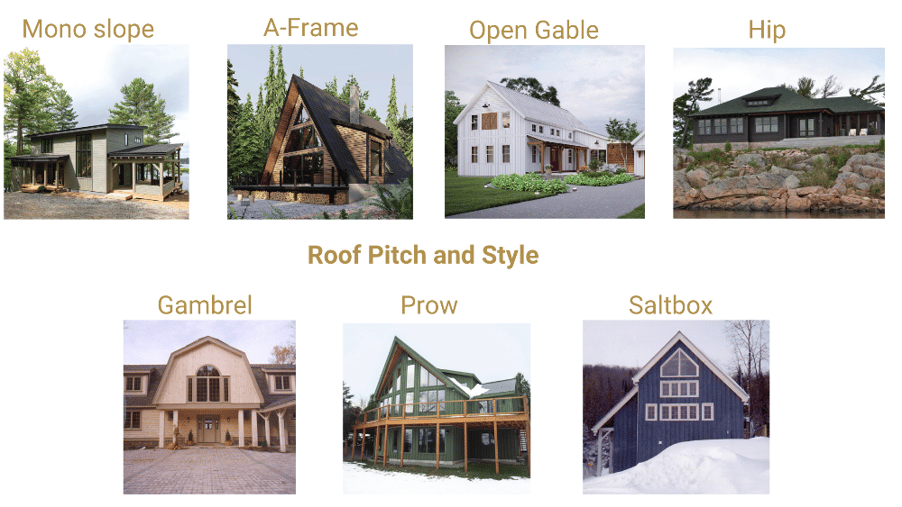 Roof pitch and style are important considerations for the exterior curb appeal of a timber frame home or cottage design.

Roof pitch is the steepness, or slope, of a roof. It is expressed as a ratio indicating how many inches the roof rises for every 12" in depth (toward the peak). For example, a roof pitch of 6/12 means that the roof rises 6" for every 12" that the roof moves inward, toward the peak. A 12/12 roof is approximately a 45-degree angle. A flat roof has zero pitch.

Roof pitch will affect the look of your home on the outside as well as the height of ceiling on the inside – for that all-important, showstopping timber frame cathedral ceiling! Both the look of the pitch on the outside as well as the desired cathedral ceiling height on the inside will play together on your decision here.

There are also practical considerations for roof pitch decisions. For areas of heavy snow, a steeper roof pitch will allow the snow to slide off the roof more easily. Flat or even low pitch roofs could struggle with heavy snow loads as well as leaks from pooling water and ice.

There are lots of roof styles, or shapes, to consider which will have a great impact on the overall look and style of your home. The mono slope roof (or shed roof) is a very popular style today and lends a modern aesthetic to the home. Our popular Bayfield 3945 timber frame house plan and Kershaw 3808 timber frame house plan are examples of our house plan designs with a mono slope roof style.

The A-frame is a distinctive shape of 'all-roof-no-walls'. Although A-frame style harks back to ancient times, the popularity of the style in America post-WWII has given the style an iconic status that's both modern and nostalgic. The Highland 4100 timber frame house plan is Normerica's take on this roof style.

A gable roof is a roof with at least one flat-faced end shaped like an 'A'. This is called a 'gable'. This is very popular on many of our timber frame house plan designs. Gable roofs are very common in cold climates and is the traditional style of roof in New England and on the east coast of Canada.

There are various types of gable roofs including open, gambrel, prow, and saltbox. The open gable is the classic gable roof, where the gable is made of the home's siding material. Gambrel, prow, and saltbox are less common roof styles in our designs now, but we have built many in the past. The gambrel has a more complex shape than the traditional triangle with two different roof slopes. It's a common barn roof. The prow is where the ridgeline is extended at the peak of the gable, creating an angled eave. The saltbox is when one end of the roof extends further than the other, creating an asymmetrical roof. It's a quintessential east-coast style of roof.

A hip roof style has four sloping sides, without a flat face. The walls beneath the roof are all the same height. This can make for a beautiful and unique interior cathedral ceiling on a bungalow house plan. Our Baril 3514 timber frame house plan has a hip roof style.
2.Gable Trusses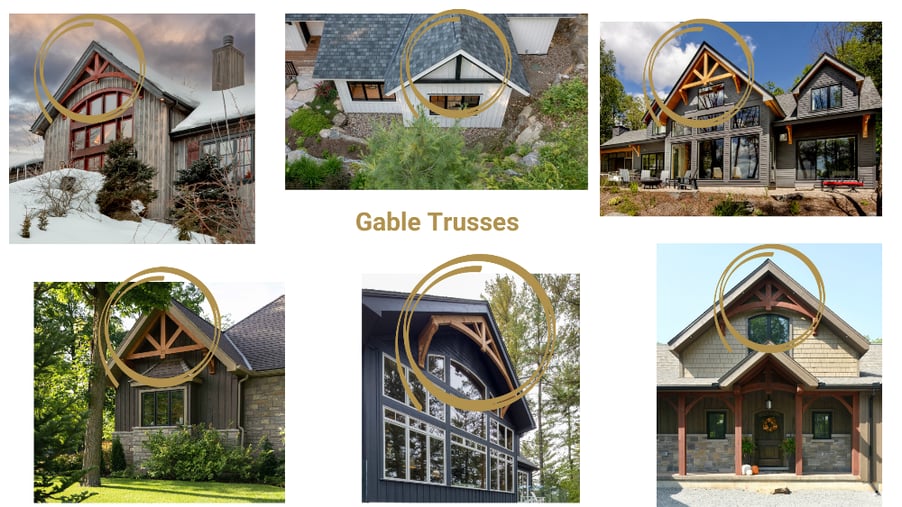 We've just discussed roof styles and the popular gable roof. A benefit of the gable roof style is that it can allow for placement of heavy timber trusses in the gable announcing the timber frame style of the home from the exterior, signaling the timber frame details that await inside, and ultimately resulting in a uniquely timber frame curb appeal. You'll see gable trusses in many of our timber frame house plans and completed timber frame projects. There are many styles of gable trusses to choose from; simple and angular for a modern look to curved with more detailing for a more traditional style. To explore a range of truss examples, download the Residential Timber Frame Construction Guide.
3.Timber Frame Porch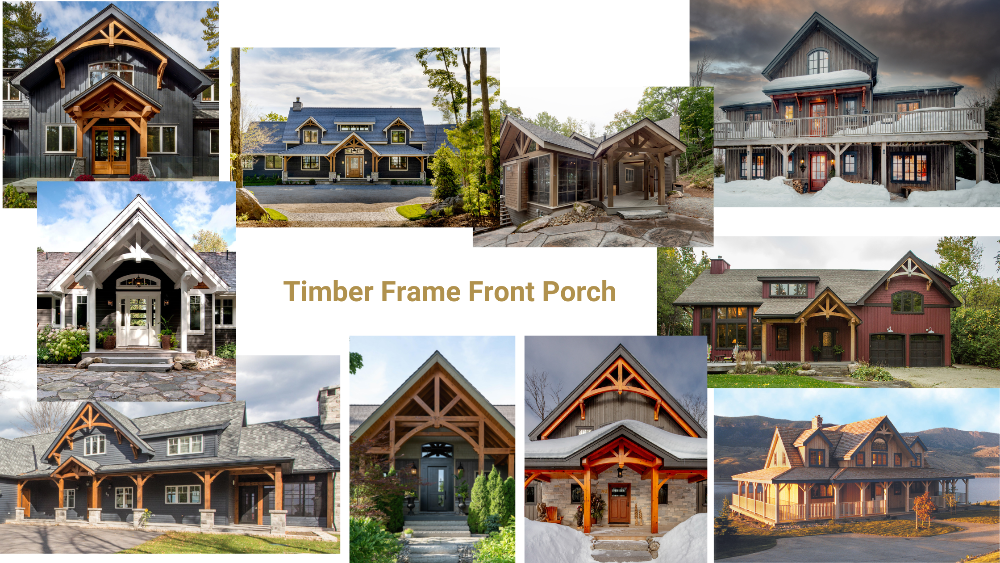 A front porch is a practical and welcome addition to any home or cottage, protecting the front entrance and the people entering the home from rain and snow. It can range from small, where it simply covers the area over the entry, to much more substantial, even wrap-around, creating a place to lounge and take in the views from the front of the home.

A timber frame home can feature spectacular porches with beautiful timber posts and trusses to complement the design of your home. Like with gable trusses, the timber frame porch is an opportunity to introduce the timber frame style of the home from the exterior and give a taste of what's inside the home or cottage.


4.Dormers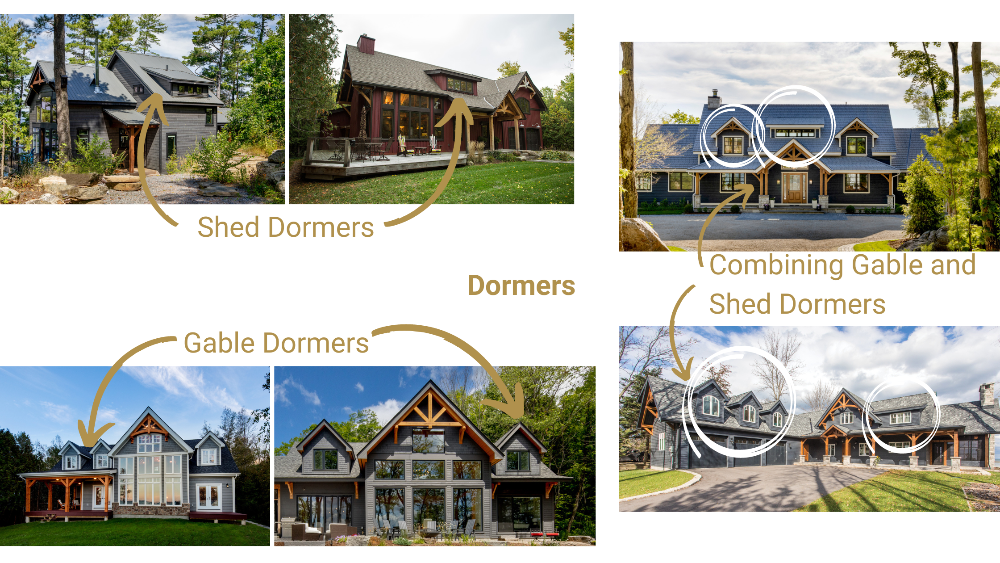 A dormer is a window that protrudes from a sloping roof. Dormers are used to increase the usable space in a loft and create window openings in a roof. They also add a lot of interest to the exterior of home, breaking up a roof. Many of our house designs contain lofts with dormers.

There are two styles of dormers: gable dormers and shed dormers. A gable dormer is a dormer with a pitched roof forming a triangle below the roof peak or ridge line. A shed dormer is a dormer with a flat roof that slopes in the same direction as the roof that the dormer is projected from. There is no rule that dictates which type of dormer is best associated with which style of home, but we typically see gable dormers on more traditional homes and shed dormers on more modern homes. To see a side-by-side comparison of the same home done with gable dormer and then again with shed dormers, see our blog "What's Your Timber Frame Style?".
4.Roof Overhangs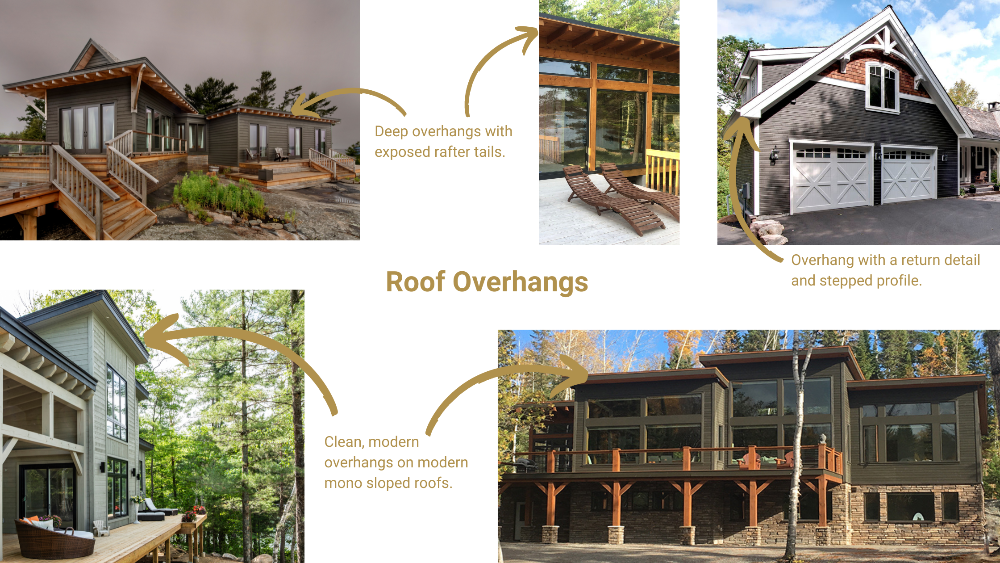 A roof overhang is an extension of the eave or the edge of the roof. Roof overhangs are important both practically and aesthetically. Roof overhangs have an important role to play:
protecting exterior doors, windows, and walls from rain and snow,
shading the windows from the heat of the sun, and
keeping basements dry by directing rain and snow away from the base of the building.
As people become more aware of building environmentally-friendly homes and designing with energy efficiency in mind, overhangs are becoming an increasingly important element of the home to consider.

The style of the overhang can add dramatically to the home's overall aesthetic. The depth of the overhang is one aesthetic consideration (in addition to practical consideration as outlined above), as well as the profile of the overhang. As for profile, in some of our house plan designs the rafter tails, or ends, can be seen in the overhang. In other house designs we have stepped detailing on the overhang. Overhangs are an exterior element that can be customized on all our house plans. To understand the range of roof overhang options, download the Residential Timber Frame Construction Guide.
4.Exterior Materials and Colour Palette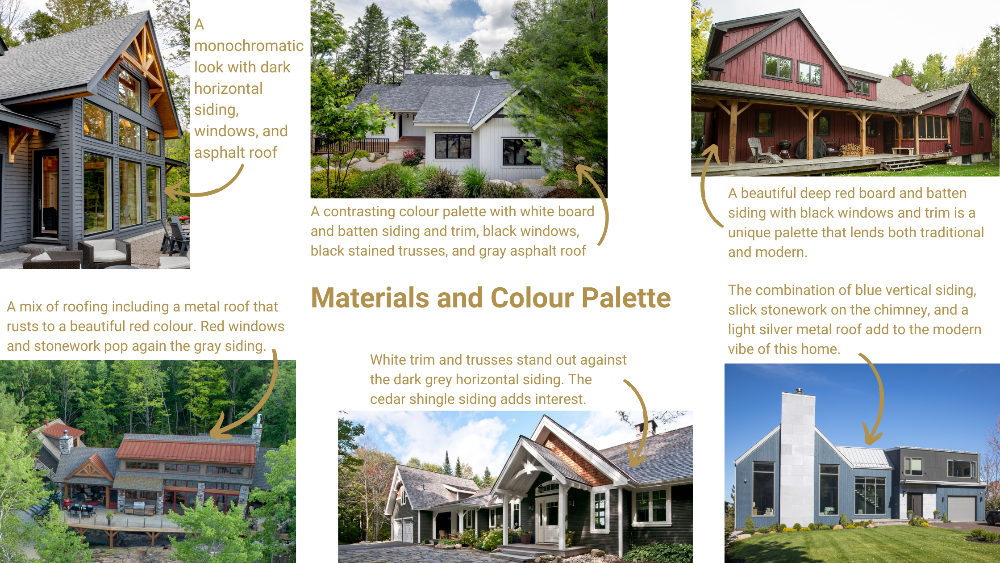 Once you determine the overall design of the bones of your home, you'll want to consider the materials you use to clad your home: siding, windows, and roof.

There is a wide range of siding choices that complement a timber frame design. Horizontal wood siding, vertical board and batten, wood shingle, and stone are common choices of materials for our clients' timber frame homes and cottages. Mixing material types and colours is a great way to add interest to the exterior of your home and break up large expanses of exterior walls.

Roofing material is another exterior material choice to be made. Asphalt shingles and metal roofs are popular choices we see clients making. Again, mixing roofing materials can be a great way of adding exterior interest to a home.

The choice of window will have a big impact on the exterior style of the home. A few questions about window choice to consider:
Will the window colour blend into the siding colour or will it be a contrasting colour to stand out?
Will the window trim colour differ from the siding and the window itself?
Will the window have grilles?

With so many exterior material and colour palette choices, this really is a place to make your mark on your timber frame home or cottage exterior look and feel. To see a side-by-side comparison of the same house plan each with a different selection of siding, roofing and windows and colour palette, see our blog "What's Your Timber Frame Style?".


Choosing Exterior Elements to Achieve Your Timber Frame "Curb Appeal"

Designing your dream timber frame home or cottage is a fun (and often a once-in-a-lifetime) process that will result in a custom home that's a true reflection of your family. Whether your taste is modern, traditional, somewhere in-between, or maybe you're not even entirely sure what your style is, our highly experienced in-house design team will walk you through every step of the way to ensure you have the timber frame home or cottage of your dreams – one that's sure to turn heads with its stunning curb appeal!
If you want to explore your timber frame house plans options, download the Residential Construction Guide or reach out to us!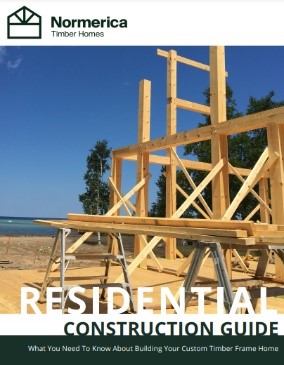 ---
About Normerica
Since 1979, Normerica has created the highest quality timber frame homes and buildings across North America and around the world. Our decades of timber frame experience and expert in-house design capabilities have given us the ability to offer a high level of customization and design flexibility – a key advantage of timber frame homes and post and beam construction.