Beautiful and Sustainable Wood Framed Barn Featured on YouTube's 'Build' hosted by Matt Risinger
A unique project, a net zero wood barn, was featured on Build with Matt Risinger. This project was the culmination of quality craftsmanship by a wide range of building experts including architect Steve Baczek, and builder Howell Custom Building Group, with a little help from timber frame specialists, Normerica.
This incredible Net Zero project is a combination boat barn, boat workshop, and party barn built on the New England coast powered by free heating, cooling, and electricity.
The owners wanted to capture an old barn look and feel while incorporating a modern flair, and modern amenities to create the ultimate green barn.
Environmentally-Friendly Barn Build Delivers Stunning Craftsmanship and Unbelievable Systems
Matt Risinger, a builder who specializes in architect-driven and fine craftsmanship work, uses his YouTube Channel to cover building science and best practices for building and remodeling.
In his Net Zero Party Barn YouTube video, Risinger tours a beautifully and scientifically designed and constructed moment frame barn and dives into the details of the systems used to ensure this project is not only Net Zero, but can also deliver excess power to other structures on the property.
Risinger states emphatically:
"When I die and go to heaven... this will be my barn! Join me as I tour this beautiful moment frame barn with an all wood interior! The craftsmanship and systems are really interesting and well done on this project."
Watch Net Zero Party Barn on YouTube Now:
Unparalleled Wood-Based Moment Frame Barn Structure Provides Stability & Houses Science-Driven Design Utility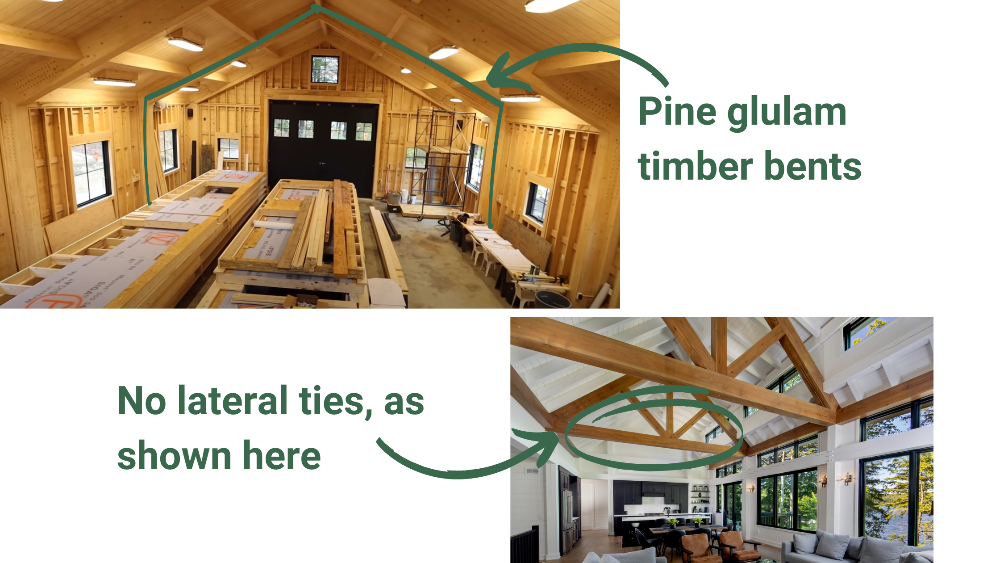 The Net Zero Party Barn features a wood-based moment frame. A moment frame is where the beams rigidly connect to the columns. Why a moment frame? As architect Steve Bascek explains, there are no lateral ties in the ceiling which frees up space to bring large vehicles and boats into the building, as the owners wanted. Usually, a moment frame is engineered with steel, however, the owners wanted to use wood to better fit with the New England aesthetic. The builders added grade beams that run across at the bottom of the columns in the slab to deliver stability to the moment frame structure. Steel hidden inside the joints help to keep the frame rigid.
Normerica Timber Frame Homes was contacted by Howell Custom Building Group to supply the wood frame and the ceiling panels. Normerica has worked on previous projects with Howell and was thrilled at the opportunity to work with them again on this exciting Net Zero Party Barn project. The wood frame structure was custom cut and preassembled in Canada by Normerica and then shipped to the New England location and reassembled by the builder. The wood frame structure is comprised of 5 huge pine glulam timber bents. Normerica also supplied the ceiling SIPS panels, prefinished with 1x6 tongue & groove pine on the bottom. 'SIPS' stands for 'structural insulated panels'. The panels consist of an insulted foam core sandwiched between two pieces of oriented strand board (OSB) and results in a ceiling system that is extremely strong and energy efficient.
Normerica Timber Homes has lots of experience partnering with builders and architects on a variety of residential and commercial projects. Whether you are an architect or builder looking for someone to help with incorporating and/or supplying timbers in your clients' projects, or a client already working with a builder or architect interested in adding timbers into your project, we would love to help.
Check out the Architects & Builders section of our website for details on the services we can provide, as well as example collaborations.
Net Zero Barn Powers Itself and Excess Energy is Funneled to Adjacent Buildings
At Normerica, we are truly impressed with the effort and focus the homeowners, architect and builder placed on sustainability for this project. This barn is net zero – this means it produces at least as much energy as it consumes. Here are some of the sustainable highlights that the architect Steve, and builder Brian detail in the show:
The heating and electric plant for the barn is housed on the roof and come from two systems:
Solar PV panels are used for all barn's electrical and cooling needs, and, in fact, produces more energy than the barn consumes. The excess energy will be piped up the hill to power a house and pool house when not needed by the barn.
A solar hot water system heats the radiant floor heat as well as all the hot water needs for the barn.
The barn is fully insulated. EPS (expanded polystyrene) foam insulation was used in the foundation and runs up the walls. 8" x 16" custom cut SIPS panels (structural insulated panels) make up the roof system (supplied by Normerica).
Another green building-friendly component is the exterior siding: Boral siding was used, made with fly ash and recycled content. The bonus is that Boral siding takes paint exceptionally well and prevents peeling. Boral siding also does not absorb water and has almost zero coefficient of expansion unlike the issues associated with PVC siding.
At Normerica we're always excited to play a part in a green building project. We are passionate about marrying the tried-and-true craftsmanship of a timber frame home with the latest in building science and technology. The results are homes of the highest quality – homes that are not only beautiful in design, but energy efficient, eco-conscious, and long lasting. All our house plans are Net Zero and Energy Star ready.
To read more about making your building a green home read our blog, What to Consider When Building Your Timber Frame Green Home.
Other Cool Things in This Barn...
Normerica is wow-ed by Steve Baczek and the Howell group's creativity and ingenuity around this project. Here are some other cool elements of this Net Zero Party Barn, as described in the video:
Huge doors were needed to allow trucks and boats to enter and exit the building. These 800-pound insulated and weather stripped barn doors were brilliantly engineered to glide smoothly with little effort while also able to withstand the big winds in the area without rattling.
This brilliant barn also featured a walk-in food-grade cooler and industrial sink and kitchen area. Great for caterers for parties as well as to clean and store any produce from the farm.
It was realized early on that the barn wasn't just your average storage barn, so 'mini-split' cooling units were installed around the barn making it a great space for summer parties and events.
The barn features a loft that can be used as a hangout area and features a beautiful view of the fields and apple orchard. The loft also ingeniously hides away the complex and intricate utility room that runs all the services to the barn.
The team at Normerica was proud to play a part in the larger team dedicated to building this outstanding Net Zero Barn Project.
---
Matt started learning about construction by working summers at an inner-city ministry that fixed up row houses for elderly people who owned their homes but couldn't afford to maintain them. He got a BS in Industrial Management from Grove City College and wanted to work for Toyota as he was fascinated with all things from Japan. He ended up working for one of the National Production Builders (NVR Ryan Homes) after college where he met his Texan wife in Washington DC.

His 7 years with that mega builder was really fun, but it didn't satisfy his desire for "Craftsmanship" as he was building houses insanely fast. He moved to Portland, OR in 2002 and it was the national mold crisis that lead him to the path of Building Science. He wanted to learn why these houses were failing and learning everything about the science behind construction has been a passion ever since.
Follow Matt on Instagram
Follow Matt on Twitter
Education with Honors: architectural services – Winchester, Lexington, Arlington
Awarded membership into the Tau Alpha Phi National Honor Society
Recipient of the Boston Society of Architects Achievement in Architectural Design Award for notable Academic Achievement.
Over 20 years of construction experience
Specializing in new construction high performance residential projects
For 25 years, our reputation has been built upon meticulous planning and expert craftsmanship — delivering consistently spectacular results on projects large and small. Working with Howell Custom Building Group means no surprises, no regrets. Just a great building experience and a home that will serve your family well throughout your lifetime. Check out our award-winning home additions, renovations, and custom homes north of Boston.
Build Show Sponsors
About Normerica
Since 1979, Normerica has created the highest quality timber frame homes and buildings across North America and around the world. Our decades of timber frame experience and expert in-house design capabilities have given us the ability to offer a high level of customization and design flexibility – a key advantage of timber frame homes and post and beam construction.