So you've decided to build a custom home with the enduring strength and beauty of wood. We're big believers in what happens when you build a custom home made of wood. But now you have a key question in front of you: should you build a log home or choose a timber frame construction?
Over the years, several people have attempted to define the differences between the two. In this blog post, we'll summarize those comparisons.
Interior vs. Exterior, Log Home vs Timber Frame:
Most writers on the subject agree that the single, biggest difference between log and timber frame homes is exterior vs. interior design flexibility.
It is clear that log homes have a rugged beauty that appeals to many people who love the idea of building with wood and the final result you get. But with most log homes, what you see on the outside is pretty much what you will expect to see on the inside.
Log Home Exterior Design: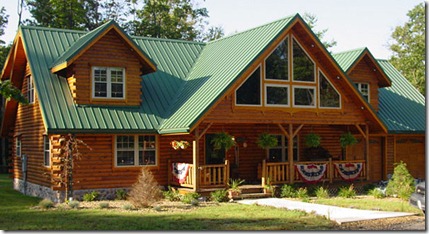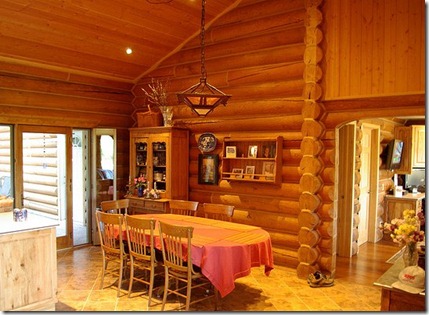 Timber frame homes on the other hand allow the owner to express his or her style differently externally while letting the true rustic beauty of timber show itself inside the home. With timber frame homes, it's inside where the true beauty of exposed heavy timbers is revealed.
For example, how many would think that this…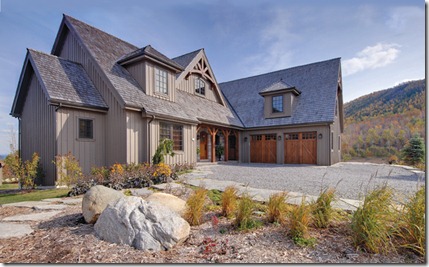 Would also be this…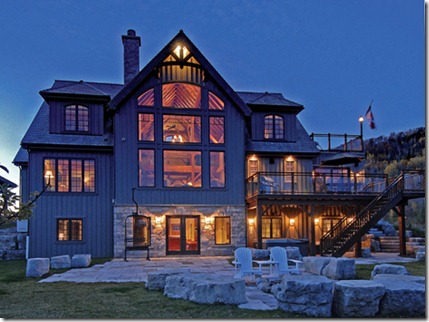 The Brennan design shown above (you can see it and 50 other custom and cottage designs on our site) also demonstrates the ability of timber frame construction to create expansive great rooms in the interior of the home with walls of windows that allow unobstructed views of the land, lake or mountains. This dramatic inside out perspective for family & guests is the "WOW" factor that separates most timber frame designs from log homes.
It is often said that people either love the look of exposed timbers or they don't.
Historically, timber frame or even log home construction had a significant focus on wood. Today, design flexibility is such that heavy timbers can be used to create combination or hybrid homes that soften the look of timbers. In addition, heavy timbers are increasingly used to create ultramodern homes, which was not possible even a few years ago.
While it is clear that timber frame construction has some advantages over traditional stick built construction, it is interesting to see how these two types of construction can be combined to create spectacular results for more modern homes.
Since 1979, the team at Normerica has been creating timber frame homes and cottages of unparalleled quality and timeless beauty. We know that your custom home is more than just a structure – it's your family legacy. As dedicated custom home builders, we are committed to designing buildings that will last for generations. Contact us today and find out more!
About Normerica
Since 1979, Normerica has created the highest quality timber frame homes and buildings across North America and around the world. Our decades of timber frame experience and expert in-house design capabilities have given us the ability to offer a high level of customization and design flexibility – a key advantage of timber frame homes and post and beam construction.