As we continue with the celebration of our 40th anniversary, we asked David McFarlane, President and Founder of Nomerica Timber Homes, Cottages, Clubhouses & Resorts to identify a few of his most memorable projects/designs. Here are a list of the top three projects that came to mind that Normerica is proud to have participated in:
Cypress Creek Day Lodge Olympics, B.C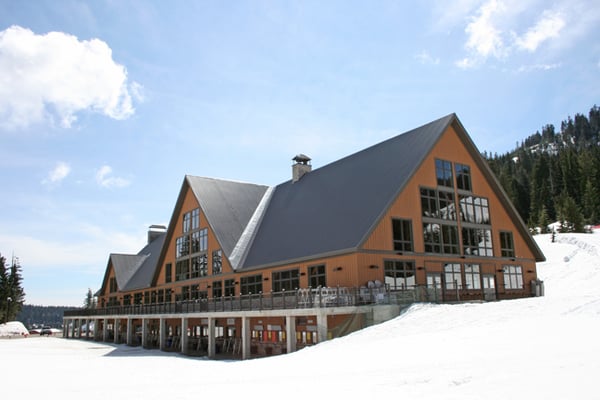 This 50,000 square foot building hosted the snowboard and freestyle skiing competitions of the 2010 Winter Olympics. "Probably the largest single building we have built. Lots of engineering in this building… for snow, wind and seismic extreme loading conditions. We were also the project managers for the construction. It was a great team effort from conceptual design and budget adherence to on time construction completion." says David.
This timber frame building was designed to reflect the beautiful mountain terrain of the site and is enveloped with Normerica's energy efficient walls and roof systems. Designed to three levels, the ground floor accommodates a full ski school and rental complex. Level 2, the main floor, includes a self-serve restaurant and full service bistro. Level 3 is a mezzanine style loft which can host overflow dining and special events.
Los Establos Equestrian Centre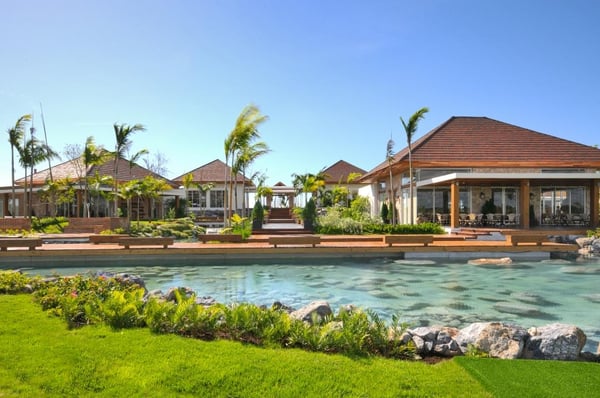 Working with local architects from the Dominican Republic Normerica also structurally designed and manufactured the restaurant, bar and auxiliary buildings for the centre piece of this new housing and equestrian development in Punta Cana, Dominican Republic.
When asked about building in the Caribbean David says: "We have a long history in the Caribbean (since 2000) of supplying beautiful, complex and hurricane safe heavy timber structures for private villa and commercial use. Doing business in the Caribbean comes with its own set of unique challenges… just ask anyone who has ever worked there! However, we have learned that the challenges are way offset by the fabulous people and beautiful scenery."
The complex heavy timber roof structures are designed to Miami Dade hurricane standards and cover an area of approximately 10,00sq.ft.
The Redstone 3859 Model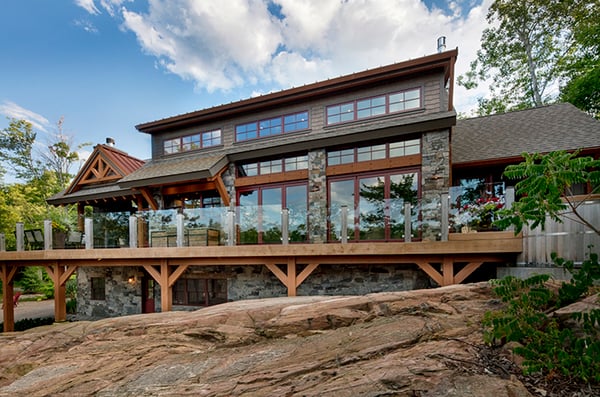 This is one of David's favourite residential design models. With a lot of rustic inspiration this 2,677sq.ft building was designed to seamlessly combine farmhouse style together with a modern mountainside retreat.
"Anne and Terry Polyak were a delight to work with and for! They had a very strong sense for the design and the utility of their home… and never varied from that vision. The entire company was inspired by Anne and Terry's commitment to the aspirations they had for their new home. They are truly a renaissance couple." Adds David.
A Muskoka room features a mix of post and beam and barrier-free design, using floor to ceiling motorized screens. A deck on the lakeside spans the length of the cottage and it is perfect for outdoor entertaining. Inside, the cottage features a vaulted ceiling and double-hinged doors that open completely, removing the barrier between the indoor great hall and the large deck outside.
Since 1979, the team at Normerica has been creating timber frame homes, cottages, clubhouses and resorts of unparalleled quality and timeless beauty nationally, internationally and right in our own backyard. David explains that after 40 years in the business each design becomes more innovative and it is still so exciting how unique each project is that Normerica takes on. Contacts us for a consultation or learn more about Normerica here.
In the months to come, to continue our celebration of Normerica's 40 years in business, we will be sharing more of our stories, memories and industry trends from over the years! We encourage you to stay tuned!
About Normerica
Since 1979, Normerica has created the highest quality timber frame homes and buildings across North America and around the world. Our decades of timber frame experience and expert in-house design capabilities have given us the ability to offer a high level of customization and design flexibility – a key advantage of timber frame homes and post and beam construction.