With cottage season in full swing here in Ontario, we wanted to give you some fresh cottage design inspiration by spotlighting a fabulous cottage project that was featured in Dockside Magazine. This timeless lakeside retreat ticks all the boxes for cottage must haves: great views of the lake, a three-season Muskoka room, and lots of bedrooms for family and friends.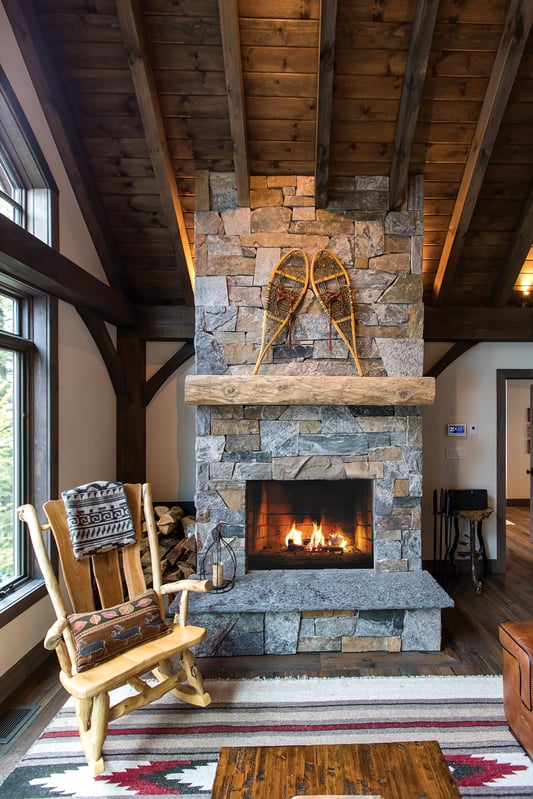 The inside of this lakeside cottage is finished with a nod to classic Ontario cottages of years ago. The dark stained timbers and ceiling, wood floors, stone-clad woodburning fireplace, and even the leather furniture evoke a log cabin or lodge feel to this family cottage. The open concept layout, creamy white walls, and large windows bring in the modern sensibilities.
The cottage owners, Alan and Lara, had always wanted a cottage of their own on the lake where they met and spent their summers as children. In 2009 they bought a small cottage on the lake with the vision of rebuilding. However, their approach to the build was unorthodox. "Most people start by building a cottage, then using that design for the boathouse…but we did it the other way around," says Alan.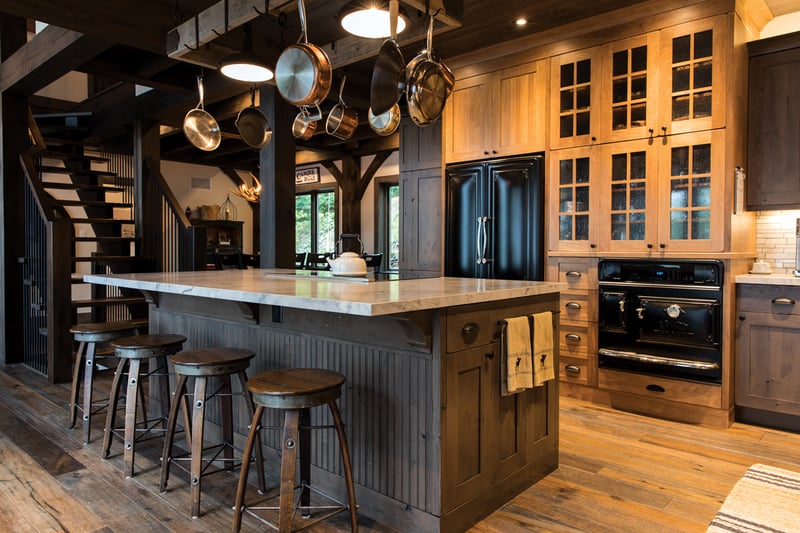 This approach had its challenges, "we were required to get a permit for the cottage and boathouse at the same time, which meant we had to design both the cottage and the boathouse at once, even though we wouldn't be building the cottage for another seven years." Working with Normerica's highly experienced in-house design team made it possible. "Although our family had grown since we created the design seven years earlier, it didn't need major modifications," says Alan. "We stuck to the original footprint, and only adjusted minor aspects."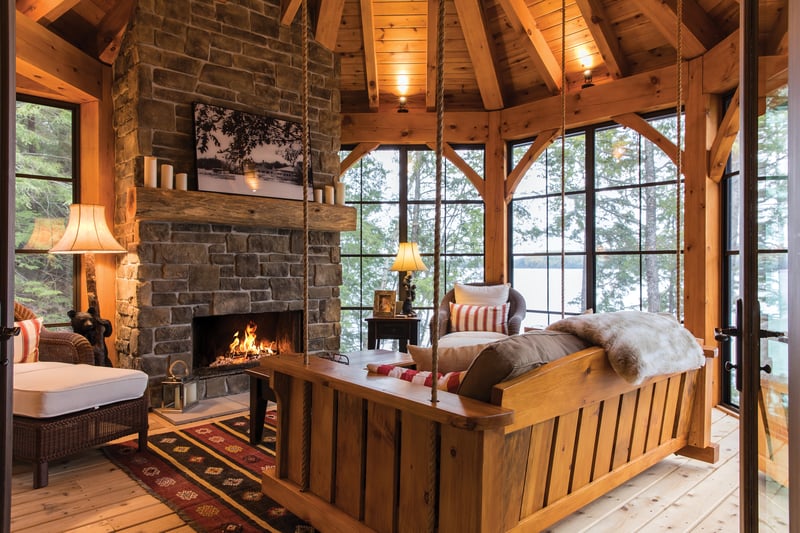 Read more about this family's journey of building their cottage and the process of selecting and working with Normerica Timber Homes to achieve their dream lakeside retreat in the full Dockside article.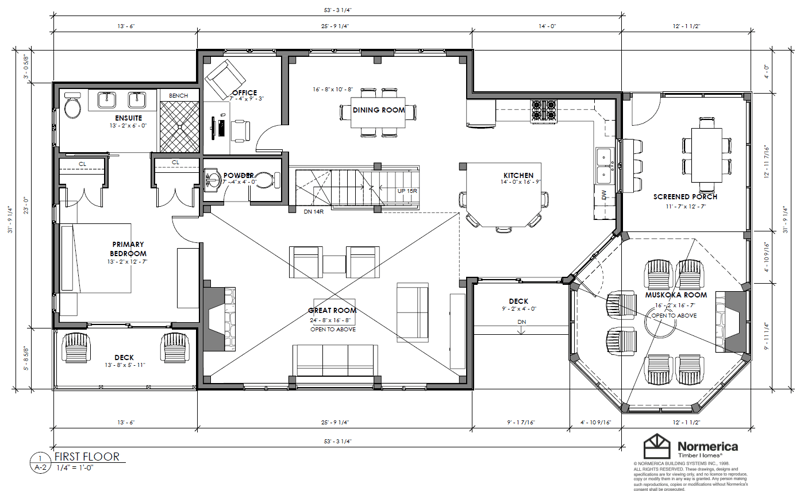 The main floor in this lakeside family cottage packs all the 'must-haves' we hear from cottagers. The main floor centers around a great room loaded with windows, a fireplace, and a spectacular timber frame cathedral ceiling. A generous kitchen, a dining room, a private primary bedroom with ensuite and deck, an office, and a showstopping octagonal Muskoka room with a woodburning fireplace complete the main floor of this family cottage.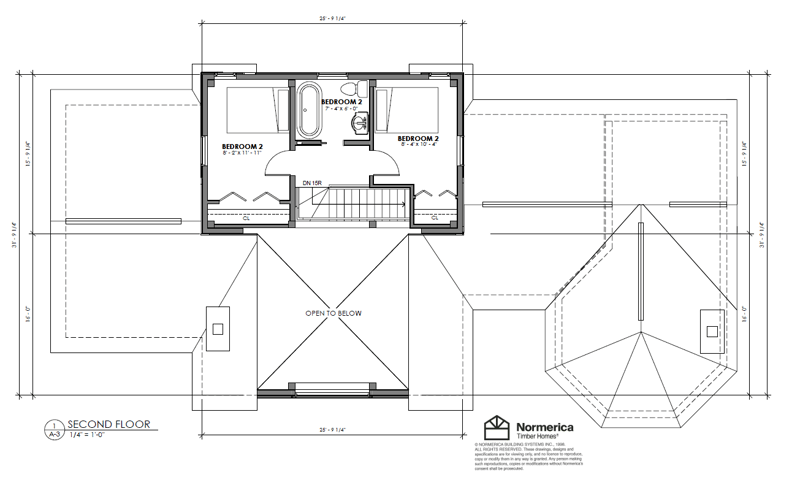 The second level of this lakeside family cottage is a loft and holds two bedrooms and a bathroom – perfect for children or guests. Lofts are a quintessential timber frame feature. Climbing the open staircase with views to the great room below and out to the lake is a spectacular experience. The slanted ceilings offer up a cozy sleeping spot full of character.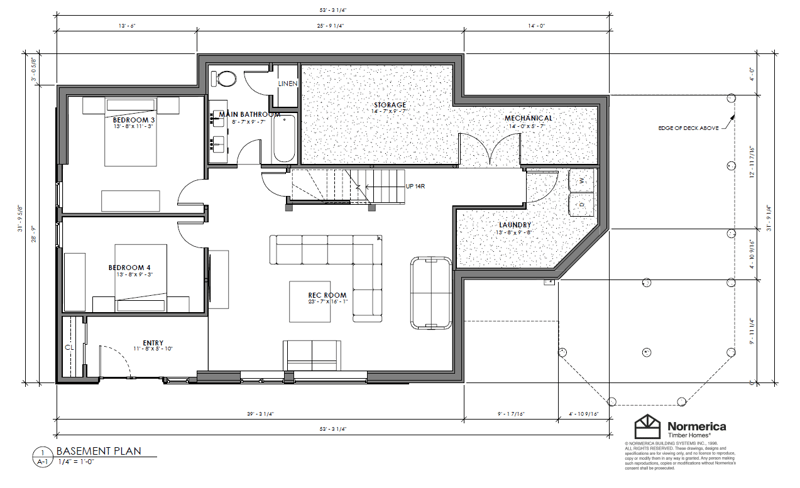 This cottage has a full walkout basement which adds tons of additional room. In this basement there are two bedrooms, a full bathroom, a large recreation room, a laundry room, and storage room. With the cottage being a walkout, which includes lots of windows, this basement certainly doesn't feel subterranean. With a large family, a second living area is always a good idea – whether as a playroom for small children or as a hangout for teenagers.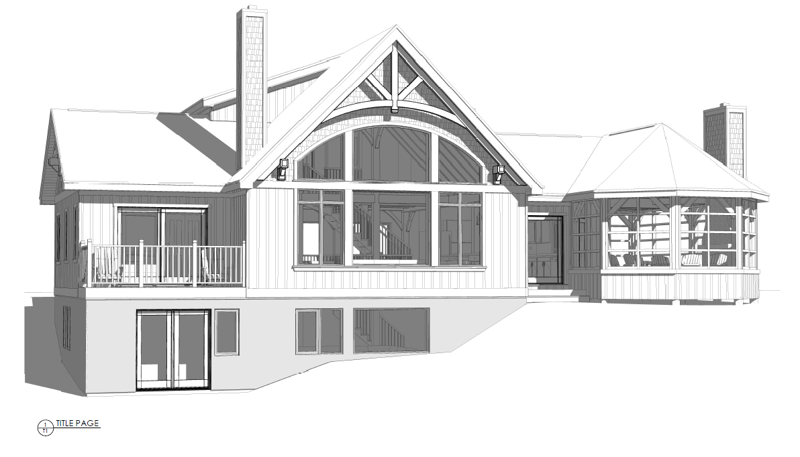 The lakeside elevation of this family timber cottage is beautiful. With lakeside cottages, the lakeside is the back of the cottage, but is often the side where visitors most often approach and where the family spends more of their time coming and going, therefore needs to be prioritised for 'lake appeal'. The unique octagonal three-season Muskoka room is eye catching. The large great room windows with timber trusses framing them give a glimpse into the timber frame details inside.

The front elevation of this lakeside retreat is simple. There is a door off the screened in porch and windows for the dining room and home office that beautifully overlook the woods and nature surrounding the cottage.
About Normerica
Since 1979, Normerica has created the highest quality timber frame homes and buildings across North America and around the world. Our decades of timber frame experience and expert in-house design capabilities have given us the ability to offer a high level of customization and design flexibility – a key advantage of timber frame homes and post and beam construction.