In today's modern world of architecture the biggest design trend is contemporary. A contemporary design is all about the future. They are known for their unique design elements, such as sleek edges, large windows and open concept spaces.
Love the idea of a log or timber frame home but also lean towards the clean look of contemporary architecture?
Over the past 25 or 30 years, the design style of Ontario's cottage country has been focused on sprawling, gorgeous custom homes, many of which are timber frame, log, as well as traditional stick frame homes. In many cases, these homes reflect standard and traditional "cottage" designs which are prevalent in the geographic area where they are built. Lately there has been an increased trend towards using more contemporary designs for cottages and rural homes.
As more and more city dwellers look for a refuge to relax and recharge, cottages all over the world are getting sophisticated, environmentally sensitive makeovers. Cottage owners nowadays are looking for a sophisticated home where they are surrounded by nature, a place where they can enjoy quality time with their family and friends, and that is where the contemporary look of open concepts and large windows is introduced. The use of large windows will bring nature right into your home and the open concept spaces will be perfect for entertaining.
Heavy timbers are generally associated with traditional cottage styles but we are increasingly seeing a move to incorporating timber frame into contemporary cottage designs as well. Timber frame contemporary designs offer a great combination of glass, timbers and stone which blends perfectly into any setting. Exposed timber elements are featured to accentuate the exterior and interior of the home and the exterior could include a flat roof or even asymmetrical shapes and angles.
Contemporary design is growing within the building industry and it is here to stay. Modern homes typically have straight lines, a clean visual that is complemented with open concept rooms and spaces, and minimal ornamentation. With that in mind we decided to create another addition to our contemporary design portfolio: The Bayfield 3945. This contemporary home design features large open concept kitchen , dinning and great room, screened porch, timber frame cathedral ceiling great room, primary suite plus 2 bedrooms on the main floor. This ideal cottage plan also features an optional basement level.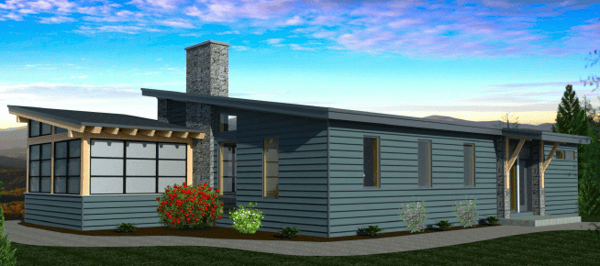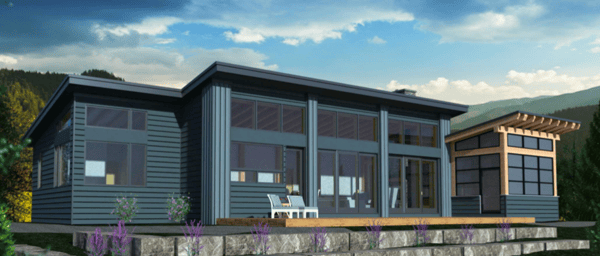 At Normerica all of our homes are unique and designed with the customer in mind. We offer many options when it comes to creating a contemporary home. Ready to see more examples of beautiful and modern timber frame homes? Click here and explore our contemporary designs.
About Normerica
Since 1979, Normerica has created the highest quality timber frame homes and buildings across North America and around the world. Our decades of timber frame experience and expert in-house design capabilities have given us the ability to offer a high level of customization and design flexibility – a key advantage of timber frame homes and post and beam construction.