Focus on Timber Frame Great Rooms that WOW!
One of the most requested rooms in our timber frame homes and cottages is a stunning great room. For a timber frame home or cottage, it is a key room, used every day, that showcases the beautiful and unique timber frame bones of the home. In a Normerica timber frame home or cottage, it is the room with all the WOW-factor.

The great room is often a great place for our timber frame house plan designers to start discussions with clients, as how the client wants this main entertaining and conversation area to feel will dictate a lot of the main design elements and flow of the home.

Key features in a well-designed great room most often include:
A soaring cathedral ceiling
Trusses and rafters
A big expanse of windows
A fireplace
Difference between a Great Room, Living Room, and Family Room
When designing a home or cottage, people will think about including a living room and perhaps a family room as well. What's the difference? And how does a great room fit into the equation? A living room is often a formal living and entertaining space. A family room is a more casual version, for everyday family living. A great room is a combination of the two – a place to gather, entertain, and relax. It's a place you spend time in every day. A great room is a major focus area of the home or cottage – the great room design elements create a stunning, practical, central living space.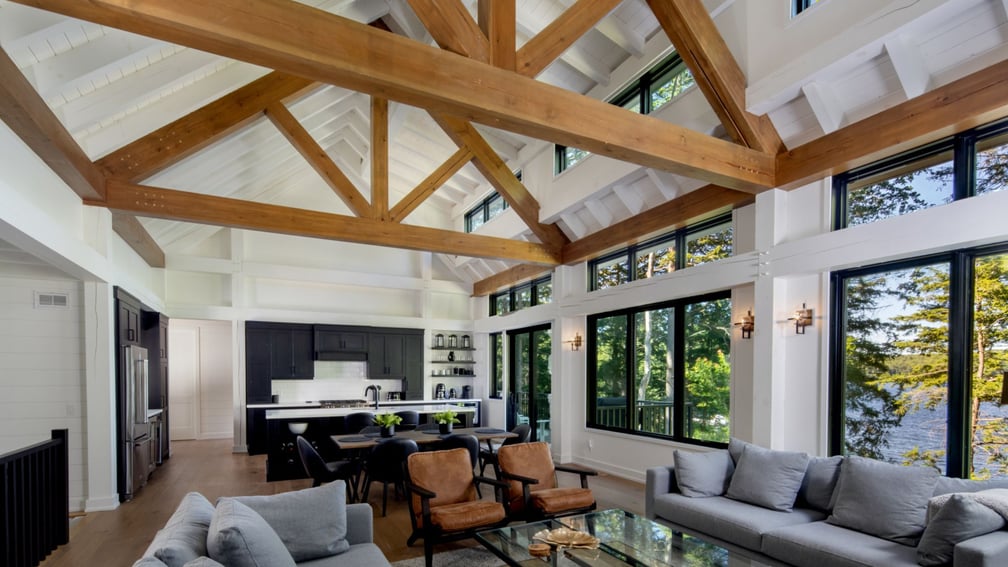 Normerica specializes in featuring a classic great room in many of our timber frame house and cottage designs. However, an increasingly popular option is a modern great hall, which Normerica features in many of our latest timber frame house plan designs and finished portfolio projects.

The classic Normerica great room design features a magnificent cathedral ceiling, often with a staircase leading to an open loft at one end. It's a time-honored look that's always popular.

The Normerica great hall is a more modern timber frame house plan layout – the kitchen, living room, and dining room are all in one 'hall' together, enveloped with the same cathedral ceiling. The great hall allows for the same consistent view for all 3 rooms. Some examples of timber frame house plans giving centre stage to the great hall are the Bayfield and Redstone.
Major Elements of a Timber Frame Great Room Design
A well-designed great room considers the importance and frequent use of the space. The great room must be all things to all people – homeowners, kids, teenagers, and guests. And, just as vitally, the great room can (and should) be the most impressive and magnificent room in the timber frame home. To achieve this, a great room should incorporate these essential design elements:
1. Soaring Cathedral Ceiling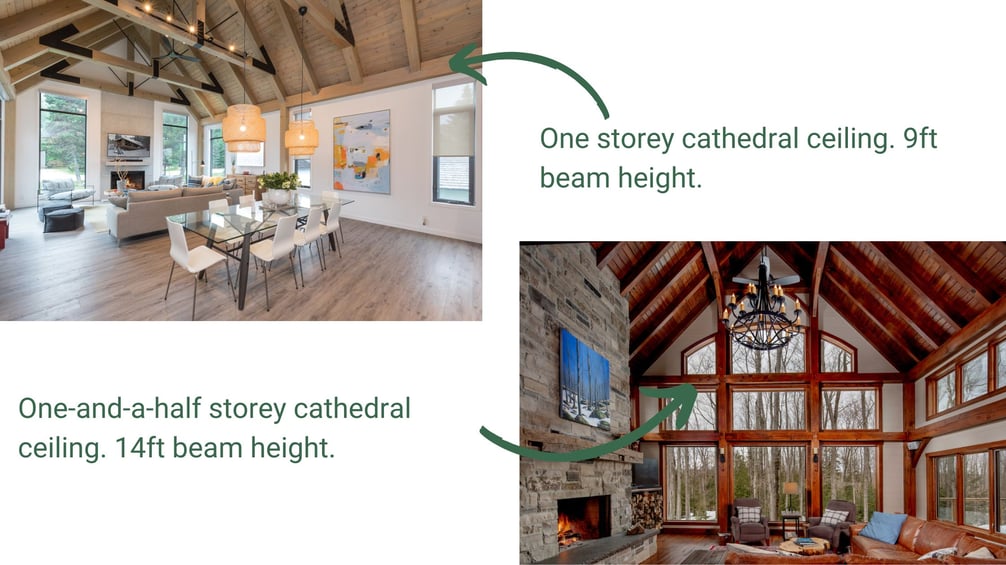 Sitting in a great room with a soaring timber frame cathedral ceiling overhead is a unique and memorable experience.

The height of the timber frame cathedral ceiling is an important factor to the feel of your great room. A one-storey cathedral ceiling (typically, 9 ft to beam level) to one-and-a-half stories (typically, 14 ft to beam level) is most typical for the great rooms designs in most of our timber frame homes and cottages.

The height to the peak of the room depends on the pitch of the roof. Roof pitch is the steepness, or slope, of a roof. It is expressed as a ratio indicating how many inches the roof rises for every 12" in depth (toward the peak). For example, a roof pitch of 6/12 means that the roof rises 6" for every 12" that the roof moves inward, toward the peak. A 12/12 roof is approximately a 45-degree angle. A flat roof has zero pitch.

How does roof pitch translate to height of the room? A 12/12 roof pitch on a storey-and-a-half building (assuming our standard 14 ft beam height) would result in a height of 26 ft to the peak of the room. A 12/12 pitch roof on a one-storey (assuming our standard 9 ft beam height) would result in a height of 21 ft to the peak of the room.

However, when designing a great room, customization of the cathedral ceiling (and other elements) is possible and encouraged. For example, if a client is set on a 12/12 pitched roof because they like how it looks on the outside, but wants a lower interior cathedral ceiling, our designers can accommodate this.
2. Trusses, Ridge Beams, Collar Ties, and Rafters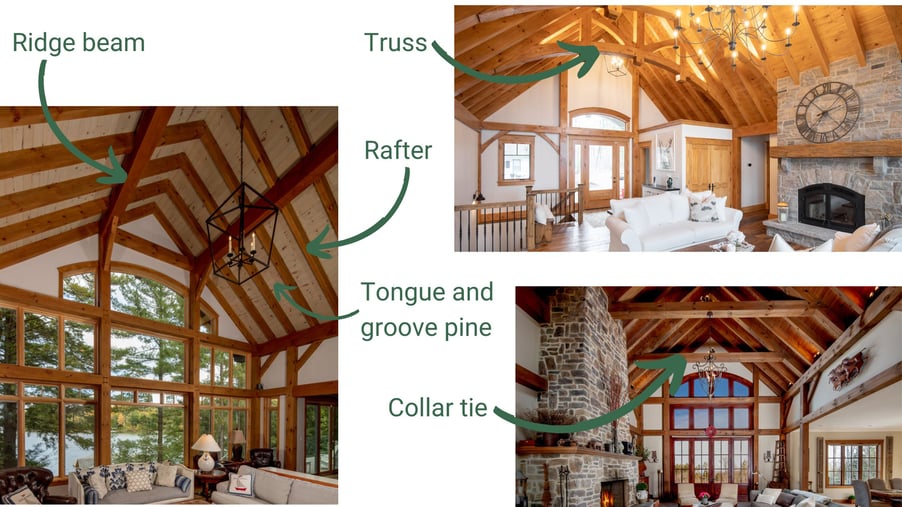 There's lot of customization to be had in the design of your timber frame great room ceiling.
Structural timber trusses are prefabricated triangular timber structures used to support the roof. They are incredibly strong and can span a large distance. Trusses transmit all of the weight to the exterior walls, therefore none of the interior walls in a timber frame are load-bearing, allowing for true open concept living. Not only are they functional to the home, but they can be customized in many shapes and styles, which will ultimately influence the feel and style of your great room. Do you love timbers but don't love the look of trusses? You can also attain the structure for the room with a ridge beam or collar ties. See below for some examples of truss and collar tie styles.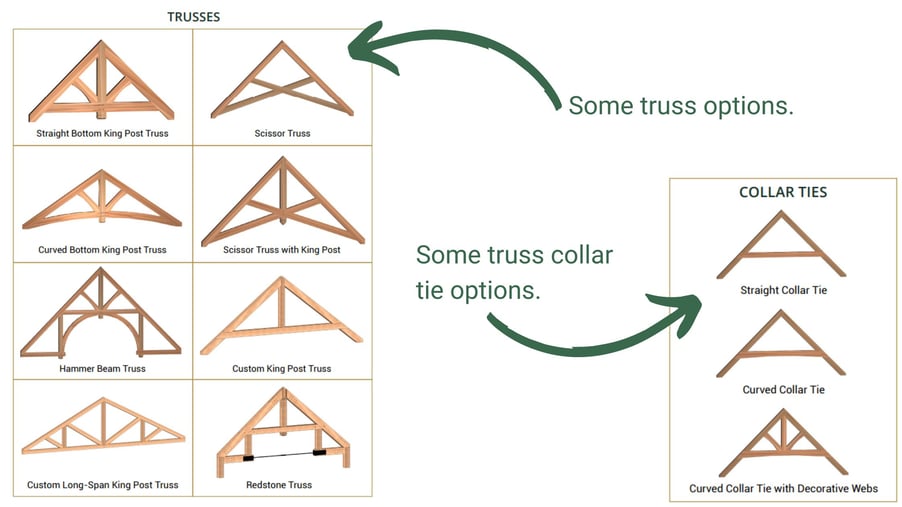 Another element to consider is rafter spacing. Rafter spacing can be customized. Some people like more rafters for more of a traditional 'wood' feeling. Others prefer more spacing between rafters, which can result in a cleaner look.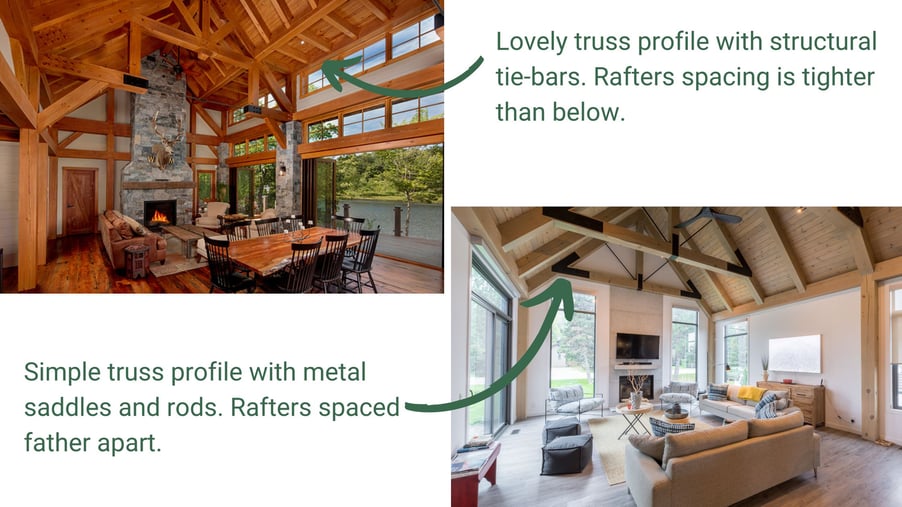 Behind the rafters, we put pine tongue and groove boards to complete the ceiling. The way you decide to stain or paint the trusses, rafters, tongue and groove ceiling, and the post and beams will greatly affect the style of great room. Some people love to stain everything the same colour, others prefer to paint the tongue and grove for some contrast.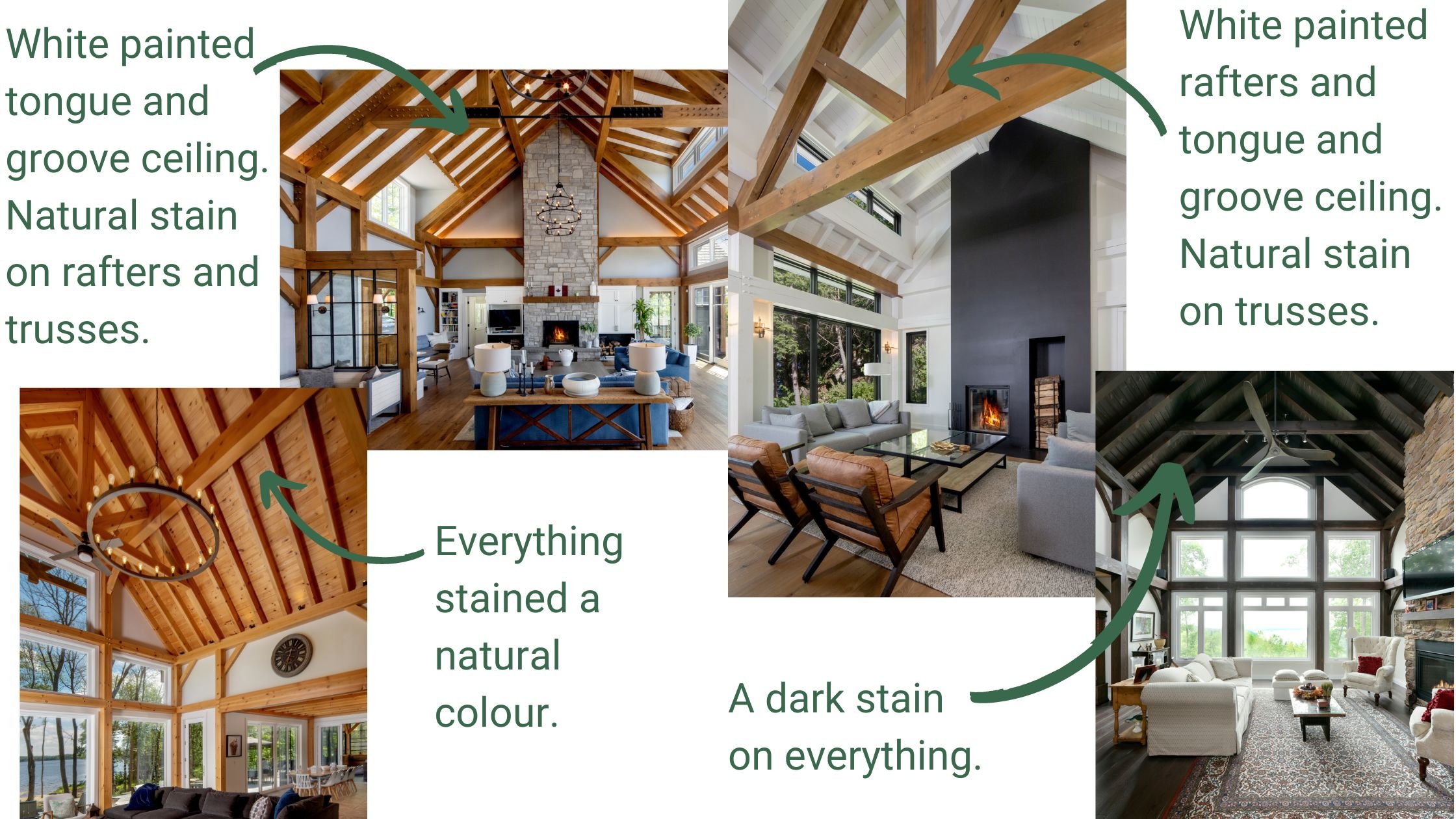 3. An Expanse of Windows to Take in the Views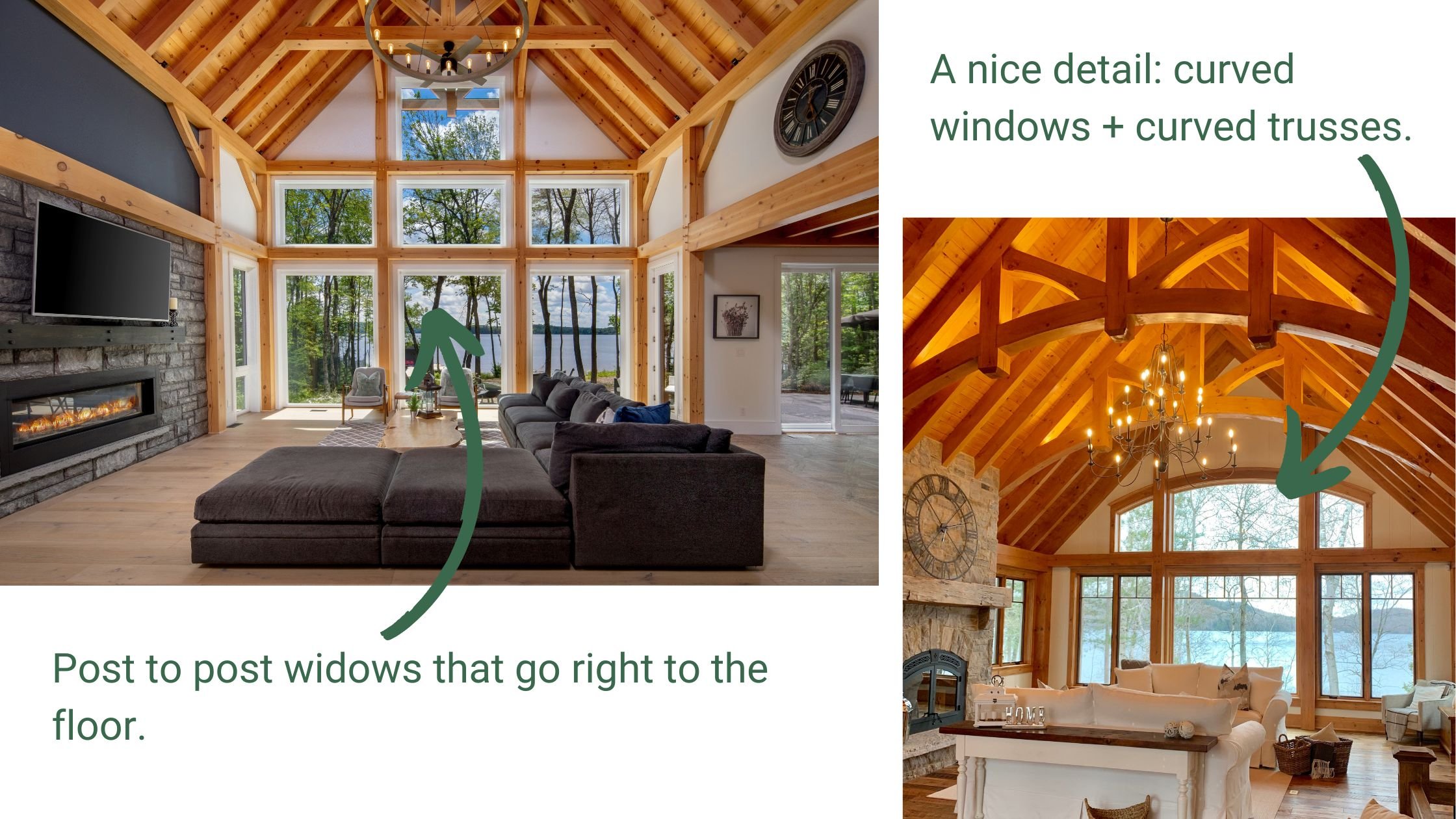 When designing a great room, homeowners generally want windows as large as possible so they can enjoy the views. However, there are limits to how large windows can be. Fortunately, with a timber frame, the timbers naturally break up the wall area and can allow for windows post to post, if desired. Windows can even go right to the floor, a style that is gaining more popularity.

Often great room designs match the style of the windows with the style of the trusses – for example, curved windows for curved trusses.

When designing your great room's windows, there are some crucial considerations:
Although an expanse of big windows is amazing to bring the outdoors in, these large windows are not operable. You may want to think about adding in some operable windows or doors for airflow.
You'll also want to consider the orientation of the window wall. A wall of windows is fantastic but can bring with it some heavy daytime sun and heat, especially if south facing. There are different types of window options that help deal with this issue: film on the windows, gas between the panes, or triple pane windows. There are also design elements can be integrated to reduce the sun/heat, like extending the overhang outside.
You'll even want to think about whether you want window treatments (drapes or blinds) at this design stage. The shape and size of the windows can have a major effect on window treatments (such as curved or triangle). Although most things are possible, costs and effectiveness should be considered.
4. A Showstopping Fireplace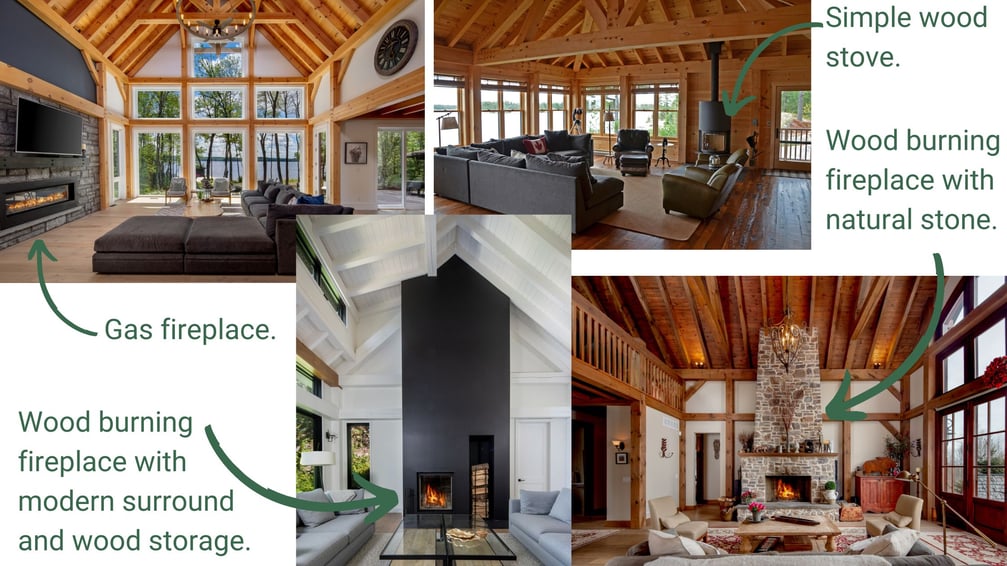 Almost every timber frame home or cottage we build has a fireplace in the great room. Whether it's a simple woodburning stove, a gas fireplace, or a traditional wood burning fireplace, a fireplace focal point is an important component of a timber frame great room.

Choosing the type of fireplace (gas or wood burning), as well as the materials used for the surround, hearth, and mantel, will greatly influence the feeling and style of the room.

When designing a great room, choosing the type (gas or wood) and even exact model of the fireplace is a crucial piece of the design stage discussion. The weight of the fireplace and desired materials for the hearth, mantel and wall cladding requires the appropriate support in the floor, sometimes even down to the foundation. Gas fireplaces are lighter than wood burning fireplaces. Cultured stone is lighter than natural stone.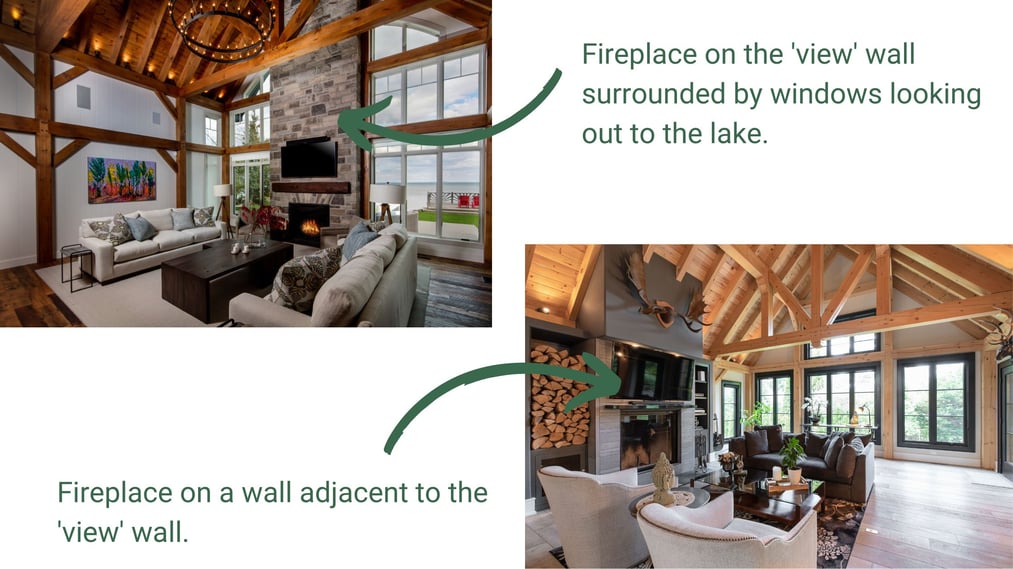 Placement of the fireplace in the room is worth a lot of consideration. Some people will choose to have their fireplace on the 'view' side of the room surrounded by windows. Others want to maximize the 'view' side with windows only and choose another side of the room for the fireplace. So, when designing the great room, considering the layout and the view for placement of the fireplace is an important choice.
Other Considerations When Designing a Timber Frame Great Room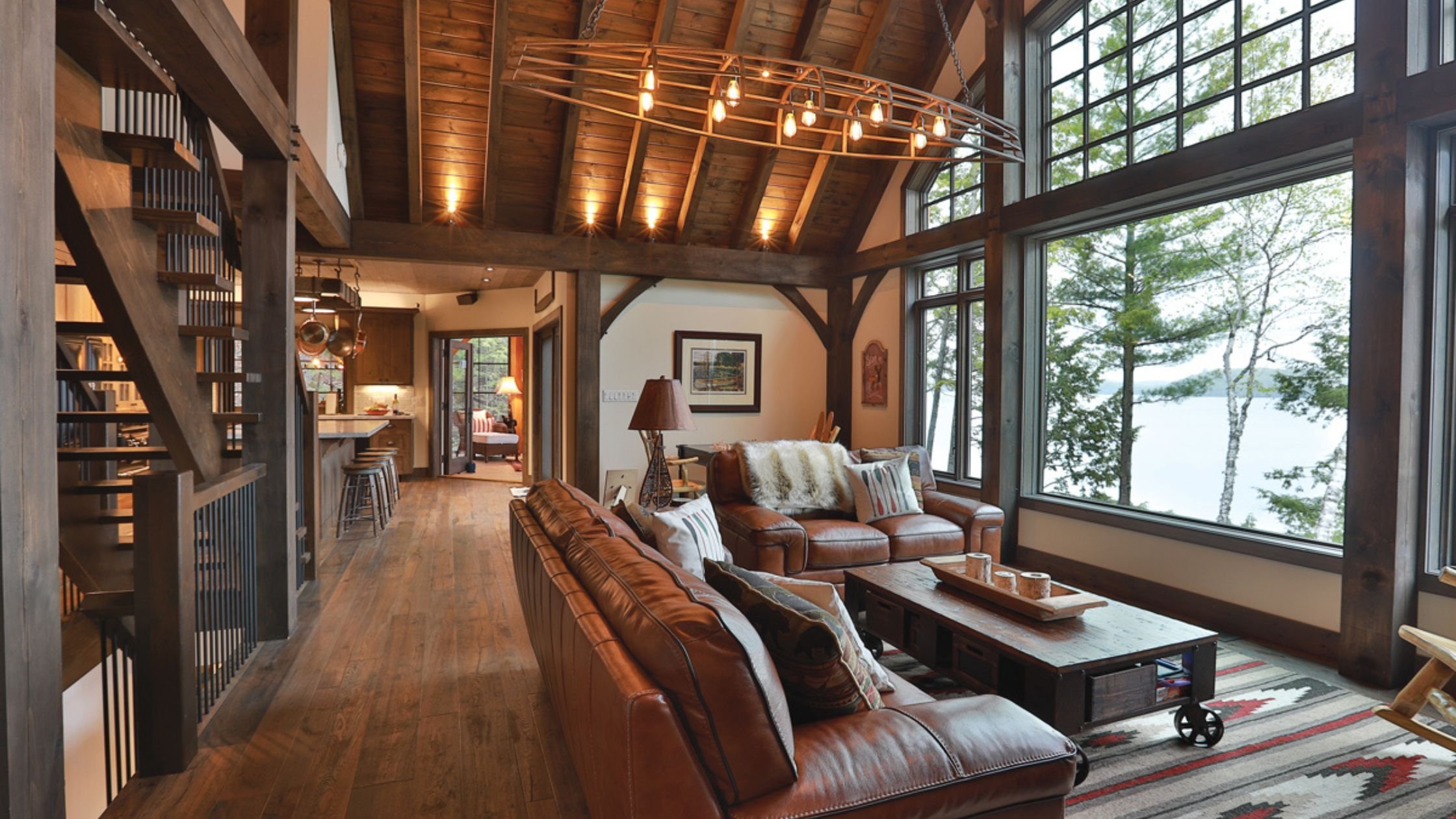 Many people focus on the main elements of the great room design but there are also other things to consider including:
Lighting and electrical
Connection to a loft
Connection to other rooms (kitchen, dining rooms, entry)
Connection to the outdoors
Great Room Lighting and Electrical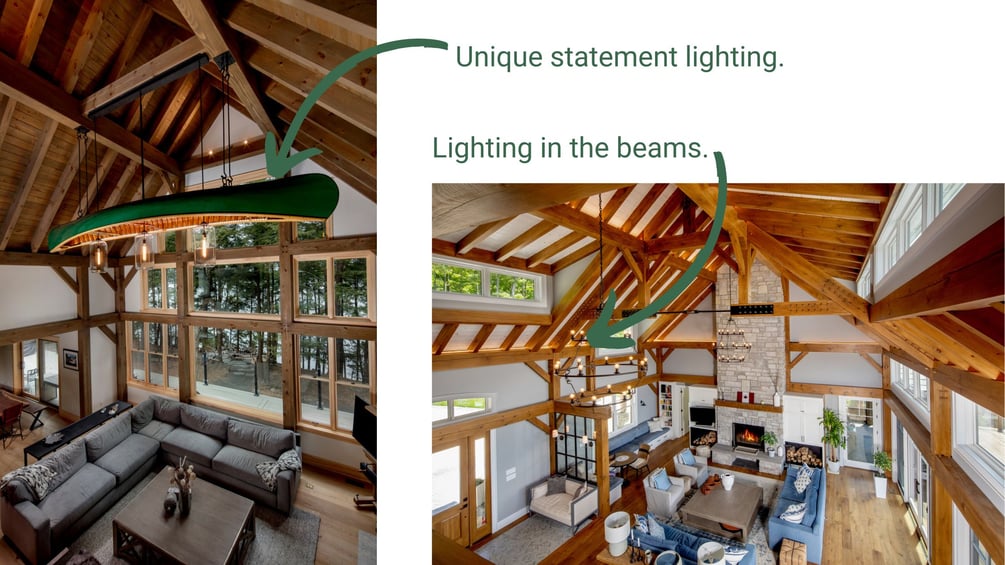 You'll want to highlight your cathedral ceiling with lighting: a chandelier, lighting in the beams, pot lights, or other creative options.
It's important to consider lighting, even at the design stage of your timber great room because the weight of some chandeliers requires additional support beams incorporated in the design.
Although not necessary to decide at the house plan design stage, you'll want to consider electrical plans for the rooms such as in-floor outlets and sound systems. How you plan to use your great room and the furniture layout will help you decide on the right electrical plan.
Great Room Loft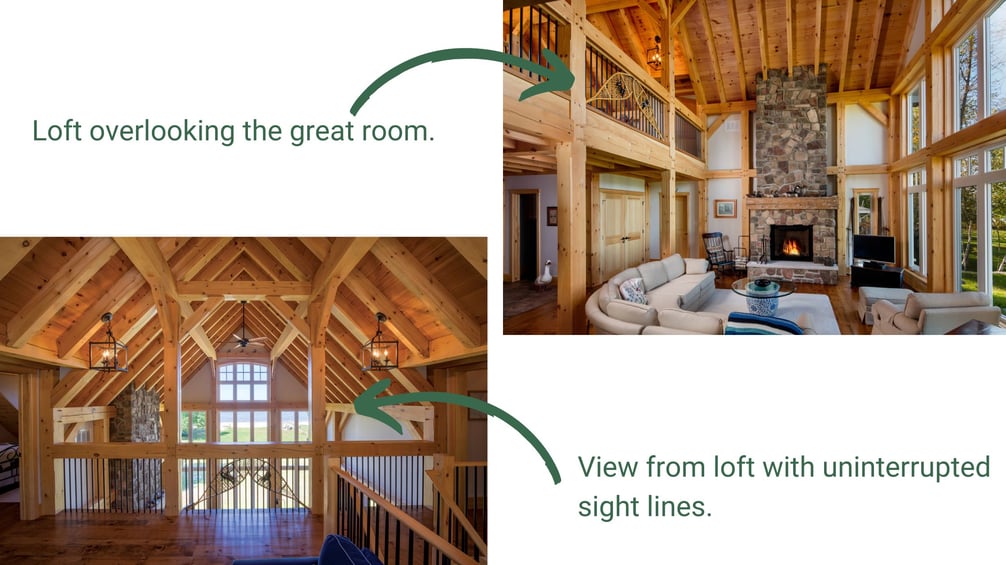 It's a classic Normerica timber frame look to have stairs leading up to a loft from the great room.
The loft area that looks over the great room might be a landing area that leads out to different bedrooms, or this area might be a sitting room or home office.
You'll want to consider the sight lines from this area – do you mind having the trusses there, or would you rather a cleaner look that doesn't interfere with the view from the loft?
How the Great Room Connects to Other Rooms and the Outdoors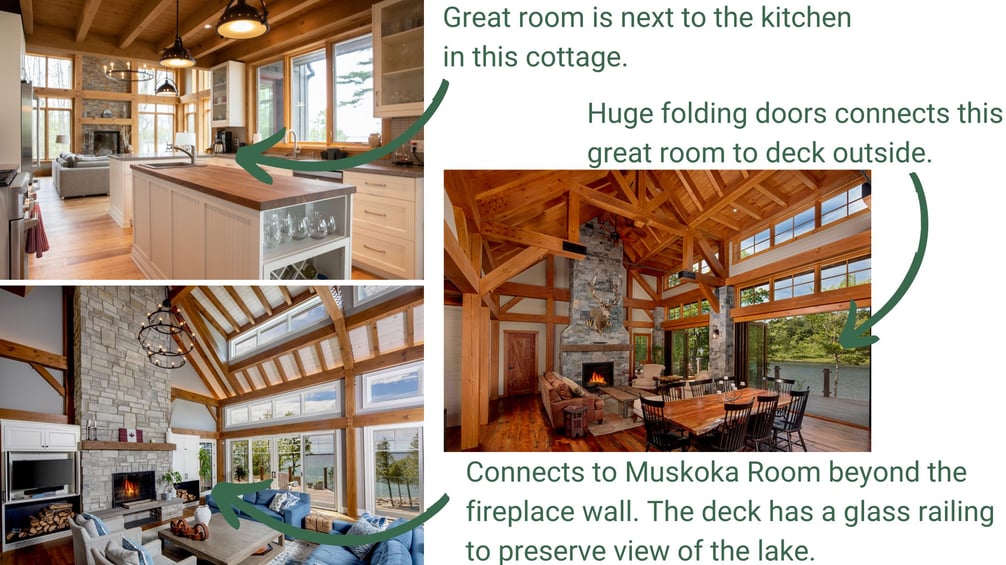 You'll want to think about what other rooms will connect off your great room. Do you want the kitchen or dining room right off this room? Perhaps a Muskoka room?
Will there be a deck off the great room? You might want to consider a type of railing that won't obstruct the view, such as glass.
Do you want to be able to access the deck or outdoors from your great room? You could consider some large folding or sliding doors.
Getting the Most Out of Your Great Room Design
When dreaming of your timber frame home or cottage, you might want to start with thinking about the style and feeling you want for your great room. These decisions will help dictate the overall feeling and design of your home.

Need some inspiration? Browse our portfolio of completed timber frame projects, or our library of timber frame house and cottage plans. When you are ready, our team of experienced in-house designers are ready to help you make your dream timber frame great room into a reality.
If you want to find out more about customizing one of Normerica's timber frame house plans to incorporate a stunning great room for your family, reach out to us!
About Normerica
Since 1979, Normerica has created the highest quality timber frame homes and buildings across North America and around the world. Our decades of timber frame experience and expert in-house design capabilities have given us the ability to offer a high level of customization and design flexibility – a key advantage of timber frame homes and post and beam construction.