The Natural Elegance and Warmth of Timber
The true beauty of a timber frame home is the feeling of both luxury and coziness which envelopes you like a warm blanket and immediately puts you at ease when you walk in the door. At Normerica, we pride ourselves in bringing an opulent comfort to our timber frame house plans and projects.
We're highlighting some of our amazing timber frame house plans and projects that are the essence of cozy luxury. The cozy luxury elements include:
Natural high-quality materials: Our signature timber frame complimented with stone, glass, and metal
Quiet colour schemes: White, black, grey, beige, and earth tones
Light-filled rooms: Created through large expanses of windows flooding the rooms with light and bringing the outdoors in
Eye-catching focal points: Cathedral ceilings, open staircases, perfectly framed views, and soaring fireplaces
The Cypress 4134 (pictured above) features a bold combination of wood, stone, metal, and glass that is truly breathtaking; the epitome of cozy luxury in a 1,669 sq. ft. timber frame home plan.
The soaring timber frame ceiling and wood-wrapped walls of the Cypress' great room and dining room give these main rooms the unique contrast of warmth and grandeur. All this balanced with a modern fireplace which provides a cozy focal point in this luxurious great room.
Keep scrolling to check out more of our cozy luxury timber frame house plans and projects...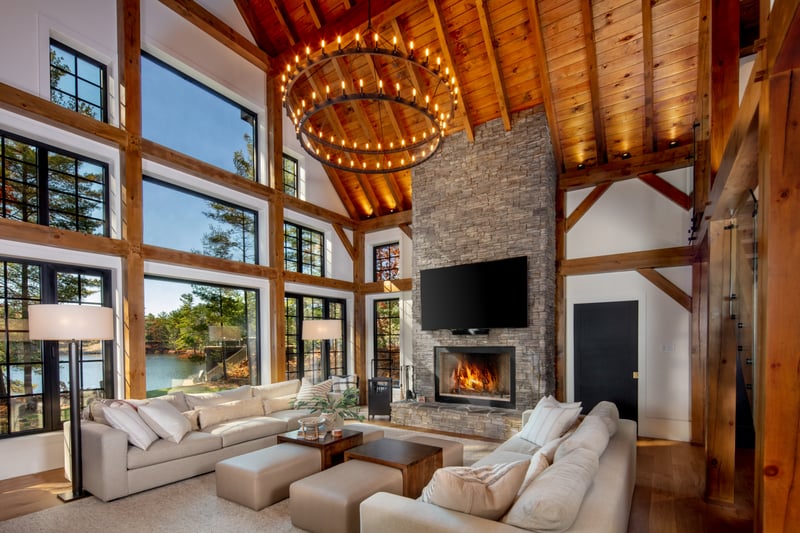 The Lakeside Escape is a 3,953 sq.ft. four-season cottage that beautifully marries traditional timber frame architecture with contemporary finishes. The show-stopping great room gets flooded with light through the European-style black metal windows stretching up to the cathedral timber frame ceiling. The glass railing of the open staircase leading the second level adds a lovely sparkle to the room.
The medium-toned timbers and tongue and groove ceiling give the room a natural cottagey feel, while the crisp white walls and black windows keep the look fresh and modern. A soaring stone fireplace is the focal point of the room and can be enjoyed through to the kitchen and dining area.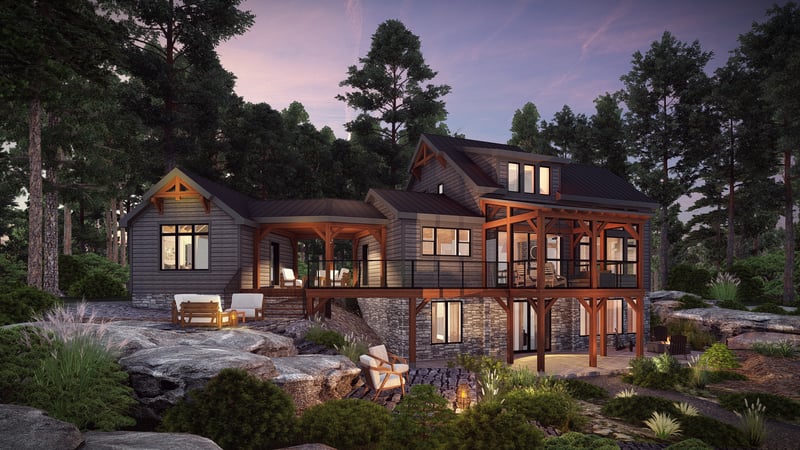 The Ranger 3575 is a 2,030 sq. ft. timber frame plan that was designed with a nod to coziness of classic rustic cottaging - but make it luxe. This unique design includes an attached 'cabin' that serves as the ultimate primary suite, providing an intimate and indulgent retreat for the owners.
The open concept living room/kitchen/dining room is an efficient hub of warmth and activity loaded with windows, a cathedral timber frame ceiling, and central stone fireplace. A loft furnishes a snug nook for a generous bedroom and bathroom, tucked above the kitchen and dining room.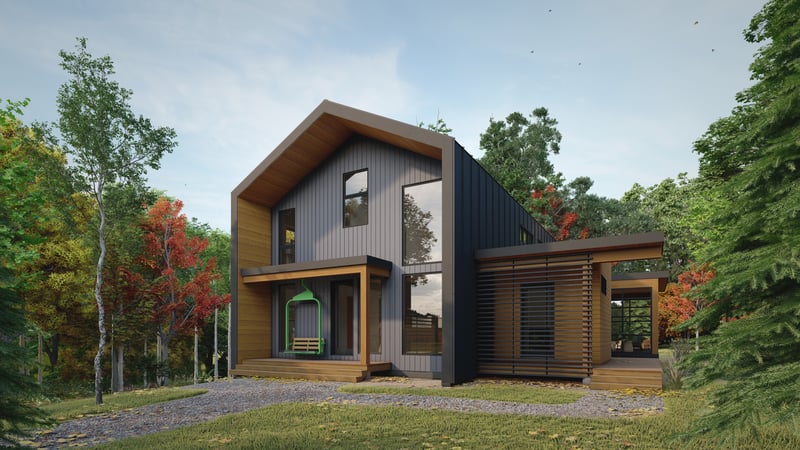 The Osler 4132 is a modern timber frame house plan that showcases the beauty of timber frame in a minimalistic design. A perfect getaway home we can envision as the ideal cozy luxury ski chalet. For this house plan, our designers took inspiration from Scandinavian architecture.
The Scandinavian climate is similar ours here in Canada with long, dark winters that include high winds, lots of snow, and frigid temperatures. Scandinavian architecture is noted for its clean lines, use of natural materials, capturing natural light, and expertly blending the building into the surrounding landscape. This style of architecture is a perfect compliment to a timber frame product and perfectly represents a cozy luxury aesthetic.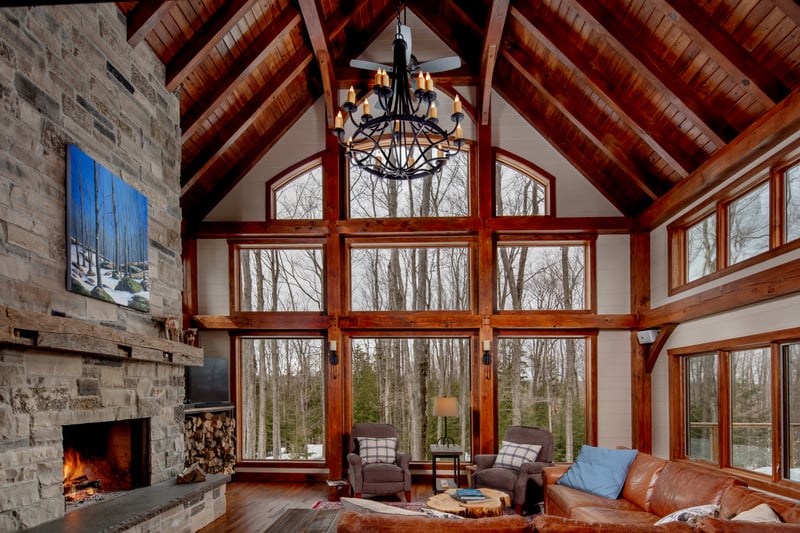 In the Woodland Retreat Project, forest and privacy were key requirements when this couple was searching for their dream property, and what goes better with that setting than a timber frame home?
The couple had fond memories of time spent at one of their parent's log homes and wanted to carry through the warm feeling a wood home provides into their own forever home, without the limitations that can come with a classic log home. A timber frame home allows them to enjoy the combination of durability and charm that structural wood elements provide, while also enjoying oversized windows, white walls, and stone features throughout.
How do the Woodland Retreat homeowners feel about their little piece of cozy luxury?
"We love our home and are extremely happy we chose Normerica to bring our dream to life."
If you are interested in creating your own cozy luxury inspired cottage or home - contact us to explore your options!
About Normerica
Since 1979, Normerica has created the highest quality timber frame homes and buildings across North America and around the world. Our decades of timber frame experience and expert in-house design capabilities have given us the ability to offer a high level of customization and design flexibility – a key advantage of timber frame homes and post and beam construction.