Each month on Blog, Post & Beam, we'll showcase a brand new cottage plan hot off our home designers desk. This month, we say hello to the Perrault, one of Normerica's new contemporary cottage plans.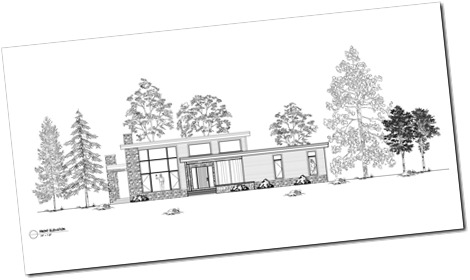 Heavy Timbers In A Contemporary Cottage Plan?
Heavy timbers are generally associated with traditional cottage styles but we are increasingly seeing a move to incorporating timber frame into contemporary cottage designs. At the National Home Show held this past spring, Normerica Timber Frame helped build the Dream Home which was a combination of contemporary with Glulams and timbers. We collaborated with good people like ProBilt by Michael Upshall, Structurlam amongst others. We were very proud of the result and it received a lot of attention for its blend of modern and natural elements.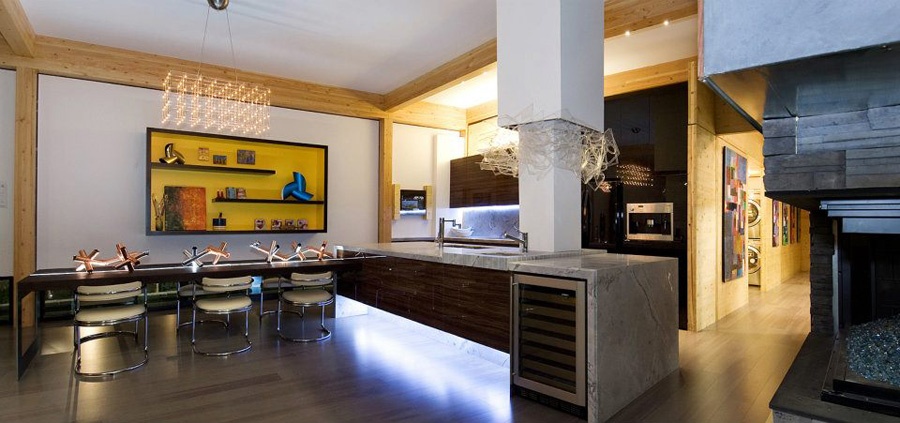 The Result? A Modern, Natural Cottage Design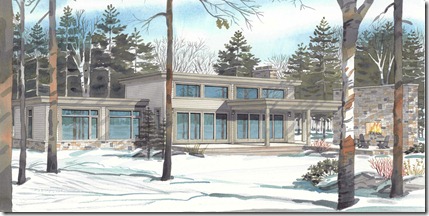 You don't have to live in a log cabin to enjoy the natural strength and warmth of a home made of wood. Inspired by the dream home plan, we began work on what's become known as the Perrault. In our designer's words……
"The Perrault offers the openness of a timber frame cathedral ceiling great room, dining room and kitchen within the style of a contemporary cottage home. Straight lines and surfaces are softened by the heavy timbers to create a striking result."
The Floor Plan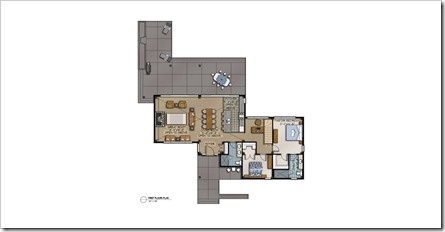 This model also comes with a timber frame outdoor living space, ideal for summer entertaining or an outdoor fall or winter fire. If the land allows, this design of 1500+ square feet on one floor can be doubled by finishing the basement to create additional bedrooms, a game room or other living space. (For more on customizing your design to the land see part one of Building A Custom Cottage Home On An Island.)
It's important to us at Normerica that your cottage feels 'at home' whether it's on the shore of your favourite lake or deep in the wonderful woods. Timber frame cottage designs have a natural advantage in achieving that sort of result and hopefully you'll agree that the new Perrault plan accomplishes that beautifully.
We welcome your comments and any questions you might have on building your own custom cottage.
Stay tuned in the coming months to visit the building site of a completely new contemporary timber frame cottage being built on Lake Simcoe!
Normerica is a custom home builder creating authentic timber frame homes for local & export markets since 1979 from its home office in Ontario. For more details on the Perrault and 50 more award-winning cottage & custom home plans visit the timber frame design section on our website.
About Normerica
Since 1979, Normerica has created the highest quality timber frame homes and buildings across North America and around the world. Our decades of timber frame experience and expert in-house design capabilities have given us the ability to offer a high level of customization and design flexibility – a key advantage of timber frame homes and post and beam construction.