Developing a Realistic Timber Frame Home Construction Budget
The vision of your dream timber frame home might start with finding the perfect property, seeing an image of a home that captures you, or picturing a place where all your friends and family can gather to relax and enjoy each other's company. These thoughts often quickly turn to one big question… can I afford it?

One of the first steps to building your dream timber frame home or cottage is to figure out a realistic total construction estimate and determine what type of timber frame home fits with your budget.
At Normerica, we are committed to helping you put together a realistic and transparent Estimated Construction Cost Budget, so you can design your dream home or cottage with confidence that it will meet both your family's aesthetic AND financial requirements.
Major Elements of Timber Frame Home Project Cost
There are three elements which add up to the total project cost of building your timber frame home:

1) Land, Interest Carry, and Legal Costs
The cost to purchase your land, the cost of any financing, and legal costs to closing on your property.
2) Site Servicing & Other Soft Costs
Includes but is not limited to: surveys, permits, insurance, consulting fees, development fees, connection fees, utilities (e.g. hydro, gas, internet/phone), sanitary & water systems, site clearing, driveway, landscaping, demolition, blasting, furniture, appliances, and decorating.
3) Estimated Construction Costs
This is where we will focus on providing you information and estimate costs. Estimated Construction Costs includes all the costs of construction from the foundation to the roof, as well as all the costs to finish the inside of your home (kitchens, bathrooms, painting, etc.) to get your timber frame home to the point where it's move-in ready. The Normerica material shell package typically represents 25%-33% of these estimated construction costs. The experienced team at Normerica will help you estimate your total Estimated Construction Costs – not just the Normerica materials shell package portion.

A material shell package starting price is listed on our website for each of our house plans, as shown above. Our material shell package generally represents about 25%-33% of total construction costs. Let's use the example of The Bayfield 3945 house plan to quickly calculate a rough estimate of total construction costs:

The Bayfield 3945 material shell package starting price = $313,000 CAD (30%)
So, the remaining construction costs = $730,333 CAD (70%)
Total estimate construction cost = $1,043,333 CAD (100%)

Keep in mind that the cost figures in this example are based on May 2022 pricing. Pricing will vary based on the volatility of the materials market. Also, remember that this estimated construction cost figure represents the #3 element above (estimated construction cost). Elements #1 (land, interest carry, and legal costs) and #2 (site servicing & other soft costs) also need to be considered when thinking about your total project cost.

For a deep dive into the breakdown of construction costs and the details of what's included in the Normerica materials shell package, visit our Timber Frame Home Construction Pricing page.
How Your Timber Frame Design and Construction Choices Affect the Total Cost of Your Timber Frame Home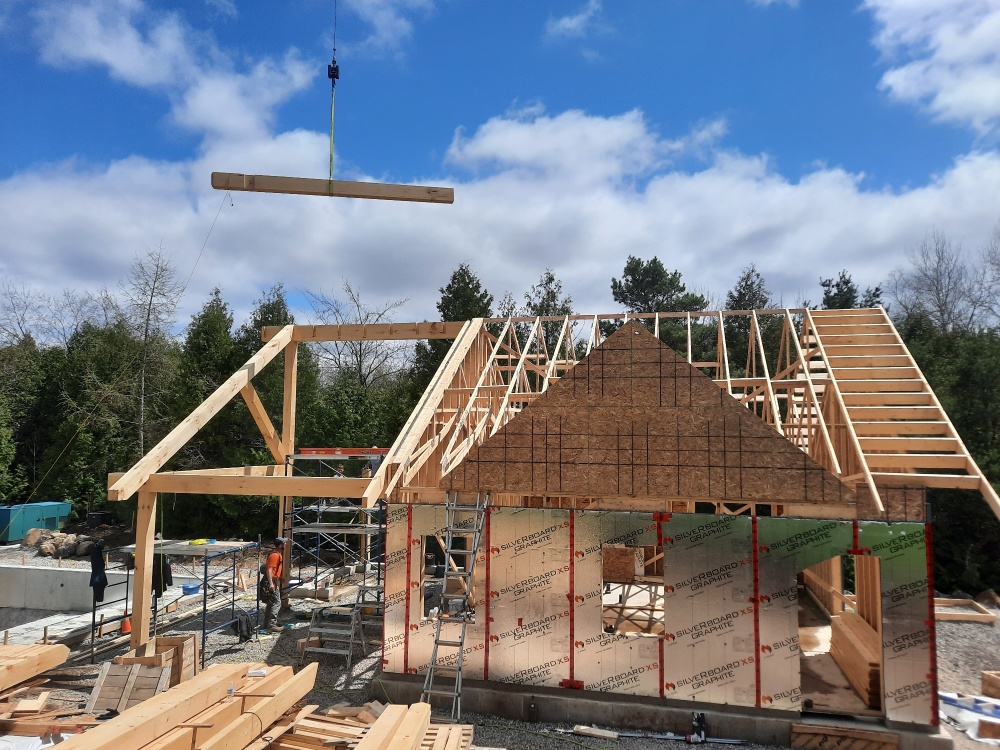 There are many decisions you will make while designing your timber frame home. It's important to understand how these choices will impact your Estimated Construction Cost .

Auxiliary Structures
Will you have garages, cabins, carriages houses, decks, or boat houses? These structures will certainly add value and enjoyment to your property but will increase the construction costs.
Geographic Location
Where are you building? Is it in a remote location, such as an island? Delivery and local building costs as well as availability of reliable trades can vary from location to location.
Does your location require an increase in snow load capacity or have special soil or site considerations that need to be worked into your design?
Does your building require an increase or decrease in our standard insulation (R-value)? Is this a 3-season cottage and doesn't require as high an insulation value? In this case, reducing R-value will reduce your costs.
Design Features
Will you have...
cathedral ceilings?
a 3-season porch or Muskoka room?
a 2-storey stone fireplace?
a walkout basement?
a wine cellar?


Do you want to create an entirely custom designed home from scratch, or can you picture yourself in a customized version of one of our pre-designed house plans? The latter can save you tens of thousands in design costs.
Finishes
What quality of kitchen and bathroom cabinetry, counters, and fixtures do you have your heart set on?
What type of interior doors, trim and floor finishes do you envision?
What types of windows and doors? Our standard materials shell package is priced to include high-quality vinyl windows, but some clients will want the premium exterior aluminum clad windows with pine interior – both are beautiful options but do come with different price tags!
What type of roofing material do you see complementing your design and style? Roofing material options do vary in costs.
What type of timber species would you prefer in your timber frame home? Our standard packages include eastern White Pine timbers; however, it is an option to upgraded to Douglas Fir, Oak, or other timber species if requested.
Construction Choices
Will you do a pier, block, poured or insulated concrete form (ICF) foundation?
Will you have a finished basement? Basements are generally less expensive to finish than the upper levels of a house, increasing your living space in a cost-effective way. Many properties will have even a marginal slope to them, allowing the option of full height windows and in some cases, a walkout basement.
Size
What amount of livable square footage do you need? Smaller does not necessarily mean less expensive per square foot than a larger, perhaps more efficient building design. Economies of scale are a reality in construction costs.
For a closer look into how your design and construction choices impact your total timber frame construction budget, check out our Timber Frame Pricing. Or better yet: download the Timber Frame Residential Construction Guide.
Calculating Timber Frame Build Budget by Square Footage
People often like to compare the price per square foot of buildings to understand how particular designs compare to one another. Although this can certainly be a helpful concept, it's important to understand the details of the calculation, as it can sometimes be misleading.

At Normerica, we look at the Gross Floor Area (GFA) of a home. GFA is calculated as the sum of the square footage of:
Full-Height Basement + Above Grade Floor Area + Covered Porches
It does not include the square footage of any auxiliary structures such as garages or decks.

The cost per square foot of the building is then calculated by taking the Estimated Construction Cost of the entire building (which includes the cost of all auxiliary structures such as garages and decks) and is divided by the Gross Floor Area (GFA).
Estimated Construction Cost of the Entire Building / GFA = Cost Per Square Foot
The more costs you have associated with auxiliary structures and design choices, the higher the cost per square foot of your home.
Examples of how cost per square footage might be misleading:
If your design doesn't have a full height basement to include in your GFA (maybe you have a crawl space or slab on grade), your cost per square foot will be higher than if you did have a full height basement; even though your Estimated Construction Cost will be lower than if you had a full height basement!
If your perfect timber frame design does not include a covered porch for seasonal use to include in your GFA, your cost per square foot will be higher than if you did have a porch; even though your Estimated Construction Cost will be lower!
Sacrificing usable upstairs living/bedroom area to achieve a soaring timber frame cathedral ceiling great room will increase your cost per square foot, even though your Estimated Construction Cost will be lower!
Although an interesting reference point, price per square foot should be used as an initial reference point only and in conjunction with other facts. Remember, you don't pay in cost per square foot, you pay in real dollars!
Timber Frame Construction Budget Peace of Mind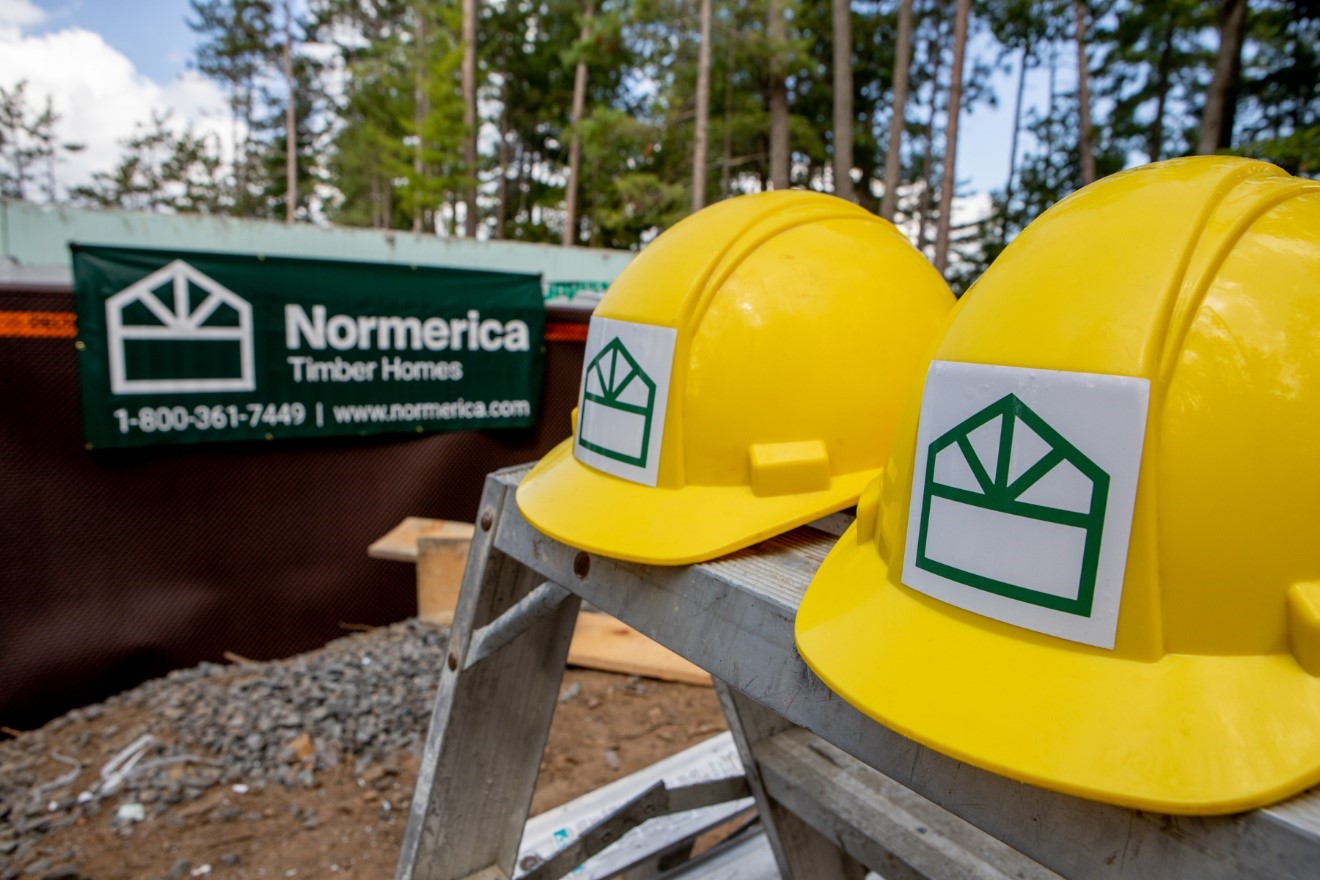 So, design the building of your dreams, and have fun doing it! For most people, designing and building your own home is a once-in-a-lifetime experience. You deserve to enjoy it, while having the peace of mind of a detailed Estimated Construction Cost Budget. The Normerica team is committed to working with you to not only create the timber frame home design of your dreams, but also to assist you in developing a realistic and transparent Estimated Construction Cost Budget that works for your family.
To get a better understanding of the timber frame construction process and budgeting, download the Residential Construction Guide for Timber Frame Homes now.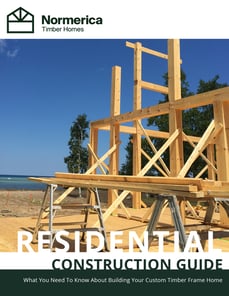 About Normerica
Since 1979, Normerica has created the highest quality timber frame homes and buildings across North America and around the world. Our decades of timber frame experience and expert in-house design capabilities have given us the ability to offer a high level of customization and design flexibility – a key advantage of timber frame homes and post and beam construction.