One of the most important things you should do when you are about to build a cottage, be it a timber frame design, a log home or a traditional custom home, is to select and be comfortable with your builder.
How do you do that?
In the 30 years we've been building award-winning custom homes & cottages in Ontario, we've found that obtaining answers to the following 12 questions goes a long way to ensuring custom home building satisfaction:
Who will be my day-to-day contact on my building site?
Will you directly manage all of the trades people on the site?
How does the home warranty program work? For Ontario custom home builders, ask are you a Tarion warranted custom home builder?
Do you have a current Workman Safety Clearance Certificate (WSIB)
Do you have commercial general liability insurance (should be a minimum of $1 million)
Can you provide me with (1,2,3..) references from your previous clients?
Will you manage the process to obtain all necessary permits, deal with conservation authorities, register my building and all other paperwork requirements for my project? If not you, who?
Are you a member in good standing with the local home builders association? If not a member, why not?
How long have you been building in this geographic region?
How often will you report progress on budget and timing to me?
Will I review and approve all changes to the project as contracted? In writing?
What is your budget, what are the payment terms and how long will this project take? Can you take me through the budget process and timeline? (There should be a detailed scope of work that shows what is included and what is not.)
If You Are Trying To Find A Cottage Home Builder On Your Own…
…you should do your proper due diligence to avoid being disappointed with your Dream Cottage experience.
Besides references from past clients, you should independently determine the reputation of your home builder. Your prospective builder will only give you good references but you can check with lumber yards, building centers and other stakeholders in the building industry to get a better sense of who you might be dealing with.
Remember, you should always get quotes from at least 3 home builders before you settle on one.
We Recommend Cottage Home Builders…
If you are building a Normerica timber frame home, we can build your home or cottage for you or help you find a great builder.
We recommend builders from our extensive network of custom home builders to prospective clients in the event that we are not building the timber frame home ourselves. We ask the same 12 questions of our home builders before we align ourselves with them so we're confident you'll be comfortable with the process and satisfied with the end result.
In any case, do the necessary work to make sure you are comfortable with your builder. It will go a long way to ensure your satisfaction with the building process and your finished cottage.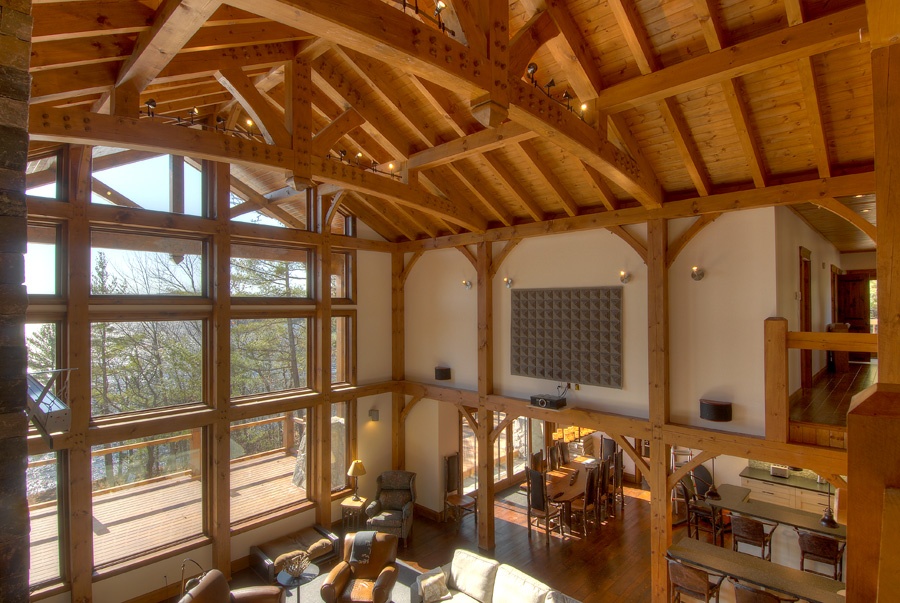 Interior of a Cottage Home Plan by Normerica. Explore over 50 Cottage Plans & Home Designs here and our latest our newest cottage plan, the Perrault.
Normerica is a custom home builder creating authentic timber frame homes for local & export markets since 1979 from its home office in Ontario.
About Normerica
Since 1979, Normerica has created the highest quality timber frame homes and buildings across North America and around the world. Our decades of timber frame experience and expert in-house design capabilities have given us the ability to offer a high level of customization and design flexibility – a key advantage of timber frame homes and post and beam construction.