Top 10 Normerica Custom Timber Frame Home Designs: The Appeal of the Prow
As we count down Normerica's Top 10 designs, this week we look at the benefits of a Full 1½ storey cottage home plan. If you're looking to maximize your main floor living area with lots of space to spread out, Normerica's Full 1½ storey timber frame home designs give you everything you want.
#9. The Lanark 3522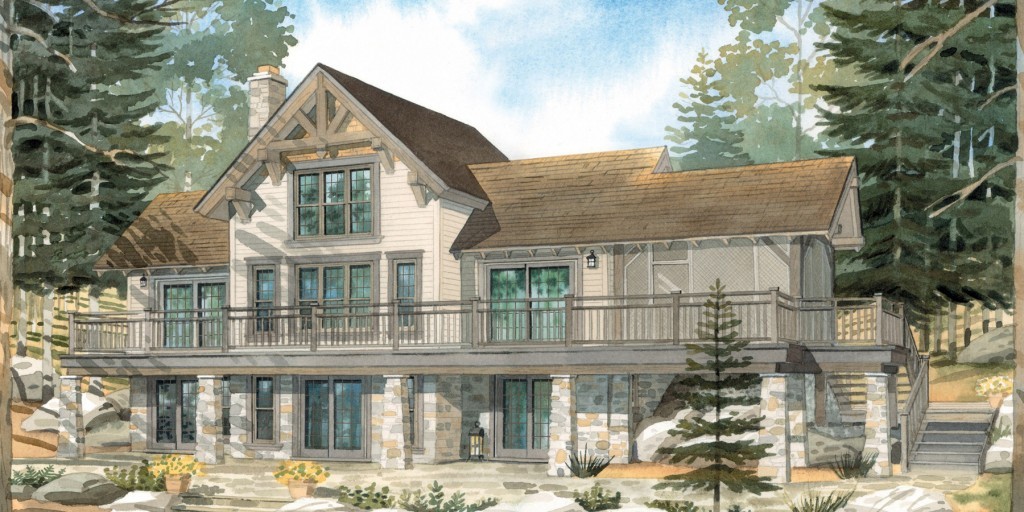 1181 sq.ft. Full 1 ½ storey
This timber frame combination house with a cascade overhang is ideal for capturing long, wide vistas and enjoying the sun at all different times of the day. With a massive wraparound deck that runs the full length of the home, and a screened porch off the dining room, there's as much outdoor living space as there is indoors. A cathedral ceiling in the open concept great room, kitchen and dining area adds to the home's spacious, airy appeal. There's a master suite on the main floor with a bedroom loft, plus optional basement level with 973 sq.ft. of additional living space including 2 bedroom suites, laundry and family room.
#8. The Algoma 3538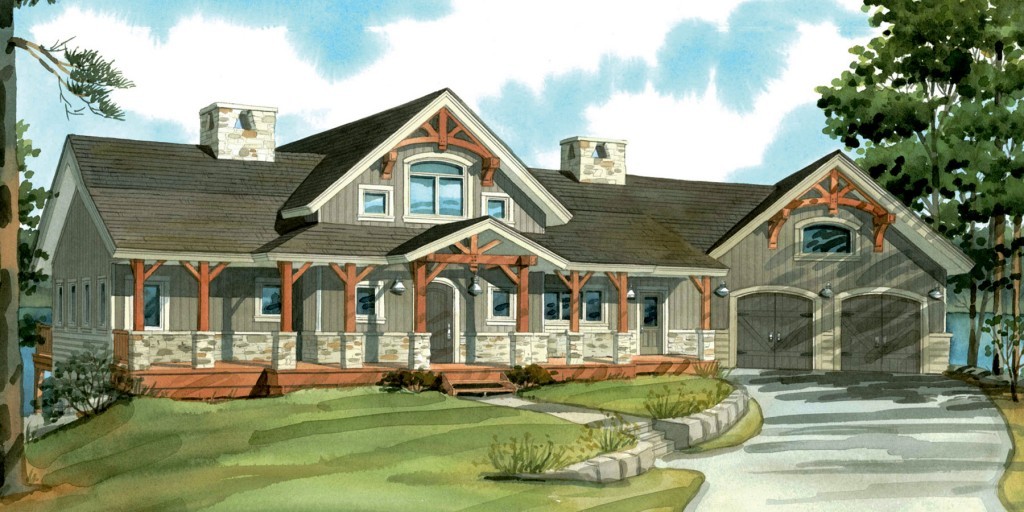 2099 sq.ft. Full 1 ½ storey
This spacious cottage home design features a generous foyer, cathedral ceiling in the great room and an open concept dining room/kitchen area and master ensuite with walkouts to multiple decks on the main floor. The second floor is a comfortable space for an office or second bedroom, while the optional basement level offers 1,749 sq.ft. of additional living space including 3 bedrooms, bath and living room, wine cellar and storage. The entrance from the 2-car attached garage into a large mudroom/laundry is perfectly suited for active outdoor lifestyles.
Liked these Full 1½ storey cottage home plans? View more timber frame home designs online.
Stay tuned for next week's post featuring the appeal of Normerica's Prow design when we reveal design #7 and #6 in our countdown of the Top 10 Normerica Custom Timber Frame Home Designs.
– Normerica is a custom homebuilder creating authentic timber frame homes for local and export markets since 1979 from our home office in Ontario. Explore over 50 award-winning cottage & custom home plans just by visiting the design section on our website.