Cottage Plan of the Month: The Ranger
Each month we feature one new plan hot off our designer's work table. Last month we introduced you to the very contemporary cottage plan, The Perrault. For November we're introducing The Ranger; a cottage design that truly lets you get away from it all by taking advantage of increasingly popular interior design concept of zoning.
Outside, the Ranger features the use of beautiful, natural timber frame construction in combination with other materials to give a look that is both natural and modern. On the spacious deck, you'll find a timber frame screened porch; perfect for having friends over for a glass of wine on a warm summer night.
Inside, you'll find a interior design based on zoning. Interior zoning is a design concept that creates recognizable sub spaces or zones within a home by separating them not just by walls but also through different lighting, textures and even smells.
Our lead custom home designer Roman Chacinski says
It's become increasingly popular because it allows the masters of the household – or guests – a quiet space away from the noise and hubbub of distractions such as kids, computers and televisions.
And cottages, as places you build for families to gather, need a design that balances peacefulness and energy.
Roman and his team have accomplished that beautifully with a covered breezeway that connects a spacious master bedroom with the main house all seated on a wrap around deck giving everyone a place to call their own.
Roman says it adds something else as well.
A design must respond to where it is. A cottage is in the countryside and is meant to be a casual fun place. A plan like The Ranger is less formal and brings the natural surroundings into the design.
The interior also features a cathedral ceiling great room which extends to the second floor with bedrooms for guests or family.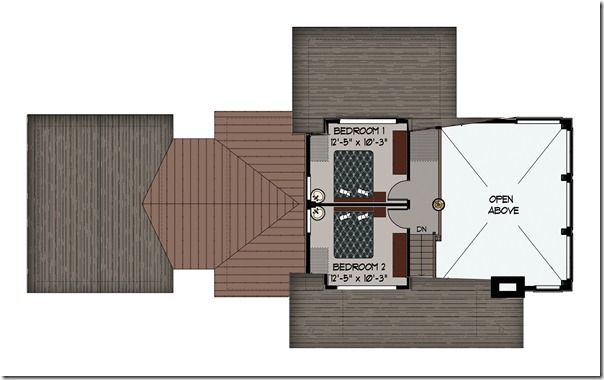 Keep in mind though that these designs and plans are just a start. Over 70% of the cottages and homes we build here at Normerica are customized so that the cottage fits the site and our clients' dreams and needs.
If you want to learn about the Ranger and 50 more award-winning cottage & custom home plans visit the design section on our website.
Normerica is a custom home builder creating authentic timber frame homes for local & export markets since 1979 from its home office in Ontario.